It may strange to see a camera released well over a year ago sitting at the top of our Best High End Compacts list, but we think the Lumix LX3 still offers an unsurpassed set of features in a beautifully elegant package.
It may not be the newest kid on the block, but it can still hold its own against all compact challengers, offering a 10.1 megapixel resolution sensor, flash hotshoe, full auto and manual controls and an optically stabilised, bright 2.5x optical wide angle zoom proudly bearing the LEICA name.
Small and light enough to carry around all day and quick to start up, the LX3 is a great camera for everyday use, or as a hugely capable back up for your dSLR.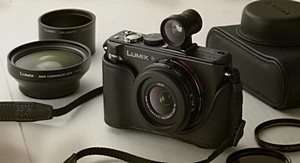 Wide. Very wide.
The lens is indeed the real killer feature here, with the fast 24mm-60mm f/2.0-f/2.8 zoom offering a superbly wide field of view which is perfect for big dramatic landscapes, interiors and street shooting.
Once you get used to filling your camera with such huge panoramas, going back to 28mm seems a massively restrictive step backwards.
With its fast lens, wide view, built in stabilisation and solid high ISO performance, this is a great camera for low light shooting,  although the limited telephoto range means that it's definitely not for bird admiring twitchers, sports fans and paparazzi wannabes.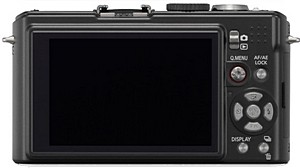 Control system
Although it can't quite compete with the Canon G11's wonderful old-style mechanical controls, Panasonic's joystick control system is more intuitive than most, and very easy to use.
That said, if you've got fingers the size of bumper pork sausages, you may struggle with the LX3's bijou controls.
As well as the usual slew of auto and scene modes, photo pros and enthusiasts will dig the wide array of manual controls giving full control over aperture, shutter and focus settings, backed by the ability to capture RAW images.
Worthy of special note is the excellent Intelligent Auto mode which does such a great job of recognising scenes and swiftly adjusting the settings accordingly that we've found ourselves using it by default – and we generally steer away from using  full auto modes on any camera.
Crucially, the LX3 also offers full HD 720p movie recording –  something that the two Canons in our top three can't manage. Of course, video may not be the biggest concern when you're looking for a high end digicam, but it's good to have the HD option onboard.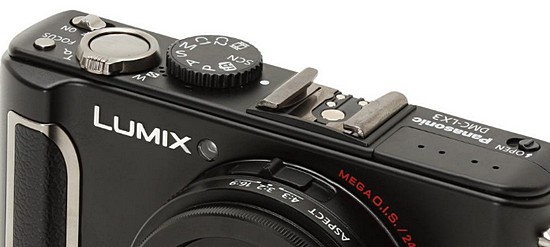 Image quality
We've been  were extremely pleased with the quality of the photos taken on the LX3, enjoying well exposed shots with good  dynamic range and excellent colour reproduction.
Some of the earlier Lumix cameras were blighted with dreadful high ISO noise, but we've been happy shooting up to ISO 400, although you won't be surprised to see a veritable snowstorm when employing the camera's near pointless ISO 6400 High Sensitivity mode.
Chromatic aberration/ purple fringing is kept under control and the white balance has only tripped up a few times. The LX3 really does deliver, time and time again.
Conclusion
We loved this camera when we first reviewed it in February 2009,  and despite a host of high end challengers coming out, it's still our first choice of high end digital compact camera.
Sporting manual and creative controls, a superbly effective auto mode, good ergonomics, a sensible megapixel count, RAW file support and a superfast lens with a useful wide angle range in a small package, this remains a fantastic camera.
We're still in love with it and with a street price of around £320, we thoroughly recommend it.
Our ratings
Ease of use: 86%
Picture quality: 90%
Features: 91%
Value for money: 84%
Overall: 91%
Buy it on Amazon
or read our full review.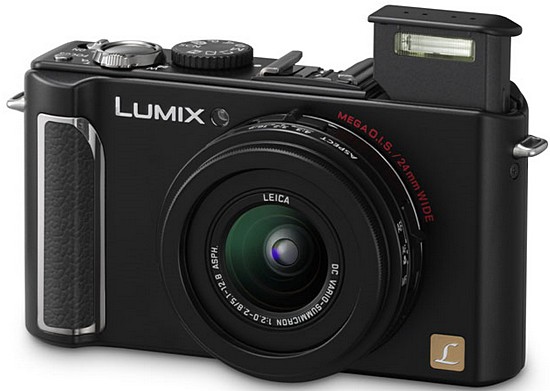 Specifications
Image Sensor 10.1 Mega pixels
Sensor Size 1/1.63″
Optic
Zoom Factor Optical Zoom 2.5x
Extra Optical Zoom 4:3 Aspect Ratio: 3.0x for 7Mega, 3.6x for 5Mega, 4.5x for 3Mega, 2Mega, 0.3Mega 3:2 Aspect Ratio: 3.0x for 6.5Mega, 3.6x for 4.5Mega, 4.5x for 3Mega, 2.5Mega 16:9 Aspect Ratio: 3.0x for 6Mega, 3.6x for 4.5Mega, 4.5x for 2.5Mega, 2Mega
Digital Zoom 4x ( Max. 10.0 x combined with Optical Zoom without Extra Optical Zoom ) (Max. 17.9x combined with Extra Optical Zoom)
Focal Distance f=5.1-12.8mm (35mm Equiv.: 24-60mm)
Lens LEICA DC VARIO-SUMMICRON 8 elements in 6 groups (4 Aspherical Lenses / 4 Aspherical surfaces)
Aperture Wide: F2.0 – F8.0 Tele: F2.8 – F8
Optical Image Stabilizer
MEGA O.I.S. (Auto/Mode1/ Mode2)
Conversion lens Compatibility Yes
Focusing Area Normal: Wide 50cm/ Tele 50cm – infinity / Intelligent AUTO / Macro: Wide 1cm / Tele 30cm – infinity
AF Metering Face / AF tracking / multi-area / 1-area high speed / 1-area / spot
Focus Mode Normal / Macro, Quick AF On/Off (On in Intelligent Auto), Continuous AF On/Off AF/MF Switchable, Manual Focus(Joystick), One Shot AF, AF Area Select, AF Tracking
AF Assist Lamp Yes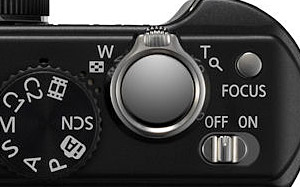 ISO Sensitivity Auto / 80 / 100 / 200 / 400 / 800 / 1600 / 3200 (High Sensitivity Mode : Auto (1600 – 6400) )
ISO Limit Set Yes
White Balance Auto / Daylight / Cloudy / Shade / Flash / Halogen / Color Temperature / White Set 1 / White Set 2 / (Selectable at Portrait, Soft Skin, Transform, Self-Portrait, Sports, Baby1, Baby2, Pet, High Sensitivity, Hi-Speed Burst, Pinhole modes) / White Balance Adjustment (2-axis adjustable, ±9steps each, Blue/Amber and Magenta/Green bias)
Exposure
Program AE, Aperture Priority AE, Shutter Priority AE, Manual, Program Shift(Program AE mode)
Exposure Compensation 1/3 EV step, +/-2 EV
Backlight Compensation Yes (auto in Intelligent AUTO mode)
Multi-Exposure Yes
Multi-Aspect Yes
Auto (AE) Bracketing +/- 1/3 EV ~1EV step, 3 frames
Light Metering Intelligent Multiple / Centre Weighted / Spot
Rec Mode[Mode Dial]
Intelligent AUTO, P(Program) mode, A(AperturePriority) mode, S(Shutter Priority) mode, M(Manual) mode, Motion Picture, Custom1, Custom2, Scene mode
Scene Mode Portrait, Soft Skin, Self-Portrait, Scenery, Sports, Night Portrait, Night Scenery, Food, Party, Candle Light, Baby1, Baby2, Pet, Sunset, High sensitivity, Starry Sky, Fireworks, Beach, Snow, Aerial photo, Hi-Speed Burst, Flash-Burst, Film Grain, Pin Hole
Shutter Speed
P:1-1/2000sec (Selectable minimum shutter speed) A/S:8-1/2000sec, M:60-1/2000sec Starry Sky Mode : 15, 30, 60sec.
Flash System
Built-in-Flash Auto, Auto/Red-eye Reduction, Forced On, Slow Sync./Red-eye Reduction, Forced Off / Flash Synchro ; 1st / 2nd / Flash output Adjustment (1/3EV step, -2 – +2 EV) / 0.8 – 8.3m (Wide/Macro/ISO Auto), 0.3 – 5.9m (Tele/ISO Auto)
Self Timer 2sec, 10sec
Auto Review
1sec, 2sec, Zoom, Hold
Review 1x, 4x, 8x
Picture Adjustment Contrast: ±2steps / Sharpness: ±2steps / Saturation: ±2steps / Noise Reduction: ±2steps / (can be adjusted in Film Mode)
Film Mode Standard, Dynamic, Natural, Smooth, Vibrant, Nostalgic, WB/Standard, WB/Dynamic, WB/Smooth, My Film1, MyFilm2, Multi Film
Recording Format Still Image: JPEG(Design rule for Camera File system, based on Exif 2.21 standard), RAW, DPOF corresponding / image with audio: JPEG (Design rule for Camera File system, based on Exif 2.21 standard)+ QuickTime / Motion picture: QuickTime Motion JPEG
Recording Image Size Still Image: 4:3 Aspect Ratio: 3648x 2736 pixels, 3072 x 2304 pixels, 2560 x 1920 pixels, 2048 x 1536 pixels, 1600 x 1200 pixels, 640 x 480 pixels / 3:2 Aspect Ratio: 3776 x 2520 pixels, 3168 x 2112 pixels, 2656 x 1768 pixels, 2112 x 1408pixels, 2048 x 1360 pixels / 16:9 Aspect Ratio: 3968 x 2232 pixels, 3328 x 1872 pixels, 2784 x 1568 pixels, 2208 x 1248 pixels, 1920 x 1080
Image Quality Fine / Standard / RAW / RAW+Standard JPEG / RAW+Fine JPEG
Motion Picture 4:3 Aspect Ratio: 640 x 480 pixels 30 fps, 320 x 240 pixels 30 fps/10 fps / 16:9 Aspect Ratio: 848 x 480 pixels 30 fps / HD(16:9 Aspect Ratio): 1280×720 pixels 24fps
Burst Shooting Mode
Full-Resolution Image, 2.5 frames/sec Max. 8 images (Standard mode), Max 4 images (Fine), Max 3images (RAW) / High-speed Burst Mode: approx. 6 frames/sec (recorded in 3M for 4:3, 2.5M for 3:2, 2M for 16:9)
Unlimited Consecutive Shooting yes
Digital Red Eye Correction yes
Intelligent Exposure yes
Intelligent Exposure_ Off / Low / Standard / High
Still Image Rec. with Audio 5 sec
Audio Dubbing Max. 10sec
Real-time Histogram yes
Highlight Display Yes
Composition Guide line yes
Composition Guide line_ 2 patterns
Built-in-Memory [Capacity] approx. 50MB
Scene Mode Help Screen yes
Auto Angle Detection yes
Travel Date yes
World Time yes
Title Edit yes
Text Stamp yes
LCD Monitor 3.0″, 3:2 Polycrystalline TFT LCD Display (460K dots) / Field of View : approx. 100% / AUTO Power LCD mode, Power LCD mode
Playback mode [REC]/[Play] Selector switch / 30-thumbnail display, 12-thumbnail display, calendar display, zoomed playback (16x max.), Playback of favourite pictures, Category Playback (playback and slideshow of pictures in category) / Slide show (duration and effect with music is selectable), image rotation / Resizing (selectable number of pixels), trimming, protection, aspect conv. DPOF print setting / Creating still pictures from a motion picture, Dual image playback / Enlarge focus area, image leveling
Category Playback playback and slideshow of pictures in category
Slideshow Mode (duration & effect with music is selectable), image rotation
Recording Media
Built-in Memory, SD Memory Card, SDHC Memory Card, MultiMediaCard(Still image only)
Microphone yes
Speaker yes
Interface DC Input, AV Output (NTSC/PAL), HD AV Output (Component), USB2.0 High speed
Direct Print PictBridge
Battery Li-ion Battery Pack (3.7V, 1150mAh) (Included)
AC Adaptor AC Adaptor (Input: 110-240V AC) (Optional)
Battery life (approx.) 380 pictures (CIPA standard)
Dimensions [mm]
Width 108.7
Height 59.5
Depth 27.1
Weight [g]
Body 290.0
Including Battery and SD Memory Card 265.0
Included Software PHOTOfunSTUDIO viewer 2.1E / ArcSoft (MediaImpression / Panorama Maker) / SilkyPix Developer Studio 3.0SE / QuickTime / USB Driver
Standard Accessories Battery Charger / Battery Pack / Battery carrying case / AV Cable / USB Connection Cable / AC Cable Strap / CD-ROM