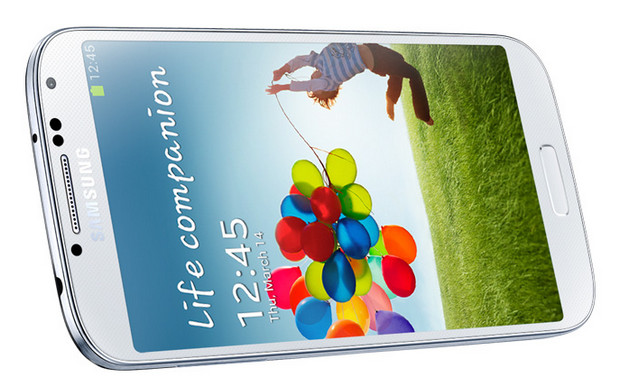 Samsung's latest and greatest high end smartphone, the Samsung Galaxy S4, was announced last night in a glitzy showbiz ceremony in Radio City Music Hall in Manhattan, New York.
The 5″ phone looks much the same as it's monumentally successful predecessor, with most of the headline grabbing news coming in the shape of new software features.
As seen on the Note, the S4 supports "Air View" allowing you to preview the content of an email, S Planner, image gallery or video by hovering your finger over the screen ( like the right click function on a desktop PC).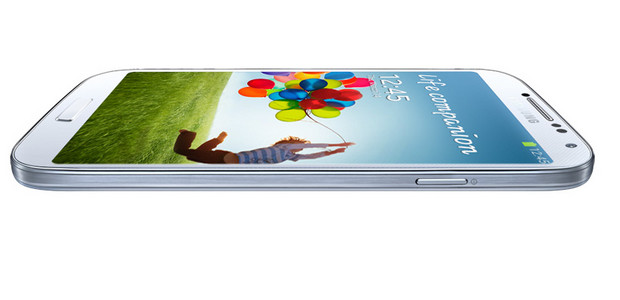 As expected, the handset features an innovative, "smart scroll and smart pause" function which uses the front facing camera to monitor a users' eye movements, pausing videos if they look away, and scrolling web pages automatically.
Niftily, the S4 can translate nine languages, from text to speech and vice versa or just translate text, and the Galaxy's 13 megapixel camera can now simultaneously record the user as well as his or her subject.
Attractively, the Galaxy S4 has a very narrow bezel, surrounding a five-inch display sporting a high-def and iPhone-besting 1920×1080 pixel resolution (441ppi).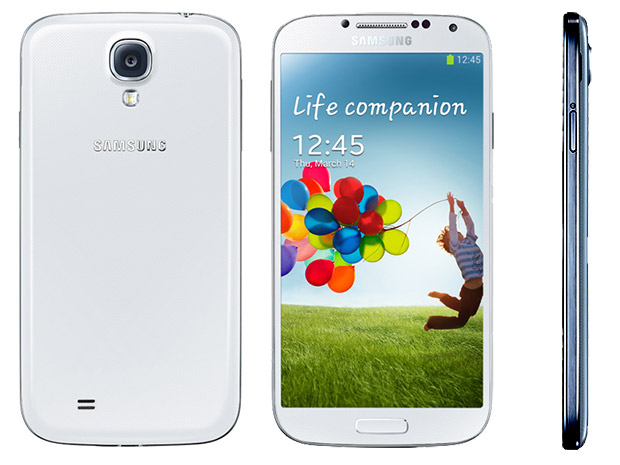 Samsung have managed to make the S4 smaller than the Galaxy S3 at 136.1 x 69.8mm despite the bigger screen, and it's just 7.9mm thin, weighing 130g.
Coming in 'White Frost' and 'Black Mist' colours, the phone comes with a Samsung Exynos 1.6GHz processor, running a hefty eight cores.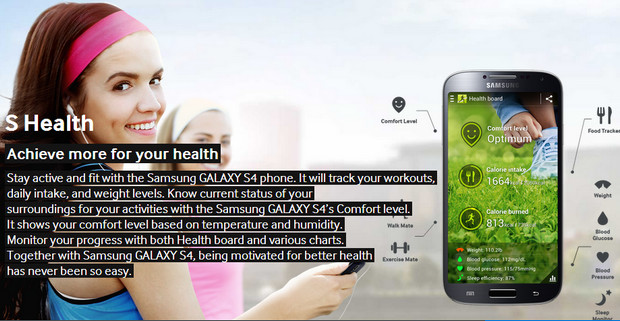 The handset comes with a generous 2GB of RAM – twice the amount in the iPhone 5 – and storage options come in 16, 32 and 64GB variants.
Samsung is to be warmly congratulated for finding space for a microSD slot (offering up to 64GB additional storage  and fitting the phone with a removable battery.
There's a ton of other features on board (check out the videos for more) but what is missing is the all-important price…
Galaxy S4 Full Specs

CPU: Exynos 5 Octa (8-core processor) 1.6ghz (ARM Cortex A15 cores (1.8GHz) and four Cortex A7 cores, only 4 can be active at a time) (28nm fabrication) (International version) and for US Qualcomm Snapdragon S4 Pro or Snapdragon 600 1.9Ghz Quad-core.
GPU: PowerVR SGX 544MP3 at 533MHz or Adreno 330 (based on region)
Display: 5″, 1920×1080 Super AMOLED HD+, Gorilla Glass 3
Camera: 13MP rear with flash, 2MP front, both capable of 1080p video
Battery: 2600mAh, with wireless charging
Dimensions: 136.6 x 69.8 x 7.9 mm (5.38 x 2.75 x 0.31 in)
Weight: 130grams
Storage: 16, 32, 64GB + micro SD card slot
RAM: 2GB
OS: Android 4.2.2 JellyBean
Connectivity:  4G LTE, 3.5G, 3G, Bluetooth 4, Wifi 802.11 A/B/G/N/AC (Gigabit wireless), proximity, gyro, NFC, accelerometer, GPS, Infrared, etc

Additional Features Group Play: Share Music, Share Picture, Share Document, Play Games, Story Album, S Translator, Optical Reader, Samsung Smart Scroll, Samsung Smart Pause, Air Gesture, Air View, Samsung Hub, ChatON (Voice/Video Call, Share screen, 3-way calling), Samsung WatchON, S Travel (Trip Advisor), S Voice™ Drive, S Health, Samsung Adapt Display, Samsung Adapt Sound, Auto adjust touch sensitivity (Glove friendly), Safety Assistance, Samsung Link, Screen Mirroring, Samsung KNOX (B2B only), Google Mobile Services Google Search, Google Maps, Gmail, Google Latitude, Google Play Store, Google Plus, YouTube, Google Talk, Google Places, Google Navigation, Google Downloads, Voice Search
Here's the full launch party, captured on video for your delectation: