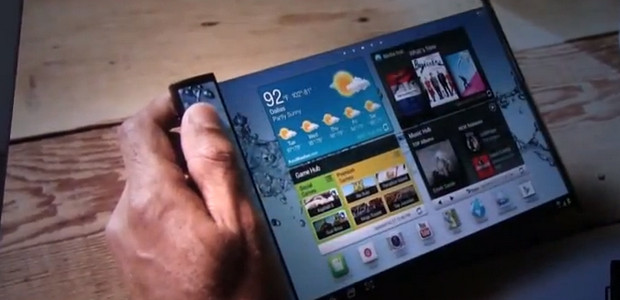 Samsung was showing off  early prototypes of its intriguing new Youm flexible display technology at CES 2013, and has also created a commercial demonstrating how these funky new bendy screens may be implemented in future devices.
The prototype devices (see video below) show that it will be possible for tablets and phones to have a spine like a book which can display information – so you could, for example, just look at the top of the phone sticking out of your pocket to see an update.
As well as opening up the possibilities for interesting new devices that no longer have to be square and flat, the other huge advantage for flexible screens is that they will also be far more resistant to breaking.
The film of the Samsung 'commercial' being played at CES reveals some examples of how the technology may be utilised in cool flip-open and slide-out screens, both of which we'd like to have right now please Samsung!