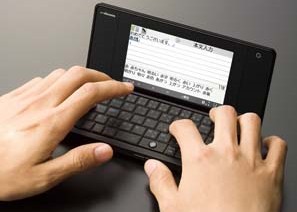 We loved our pint-sized Toshiba Libretto when it came out way back in 1997, and it looks like its spirit will live on in NEC's new Windows CE-based device for Japan's NTT DoCoMo – the N-08B.
Like a lot of people, we find it hard to get too excited about a Windows CE device, but NEC N-08B's dinky style is making us go all nostalgic for our old Tosh.
What is it, exactly?
We're not really sure what to call this device – it's a sort of MID (Mobile Internet Device), but also a bit like a mini PC and a bit smartphoney too, although there's no touchscreen on board.
Whatever it is, the Nokia E90-styled thingy manages to pack in a widescreen 4.6-inch display sporting an impressive 854×480 pixels resolution, backed by a QWERTY keyboard for some two finger pecking action.

Trackpoint
With space at a premium, there's no chance of wedging in a proper trackpad, so NEC have slapped in a trackpoint on the spacebar.
The acres of plastic either side of the screen make the NEC look a dead ringer for the old Libretto, but with far more modern specs, including a microSDHC slot, 3.1MP camera, Wi-Fi and 3G.
Calls
It can make phone calls too – check out the call/end call buttons under the screen – with NEC claiming around 1000 minutes standby time or 350 minutes of talk time.
Weighing in at 300 gms it seems to be a sturdily built affair, but the device is set for a Japan-only release at present and we're not entirely confident that it'll ever make its way to the handbags and manbags of Blighty.