The world would be a different place without cash machines, so today we pay tribute to  John Shepherd-Barron, the man who invented the world's first hole-in-the-wall cash dispenser.
Shepherd-Barron hit upon the idea after he dashed to his bank to withdraw some money, but failed to make it in time (back then, there was no cashback, so once the bank had closed you were reduced to cadging cash off pals).
Soapsud inspiration
Mulling over the situation in the bath later, he had his 'Eureka!' moment, as he explained to the BBC in 1997:
"It struck me there must be a way I could get my own money anywhere in the world or the UK. I hit upon the idea of a chocolate bar dispenser, but replacing chocolate with cash."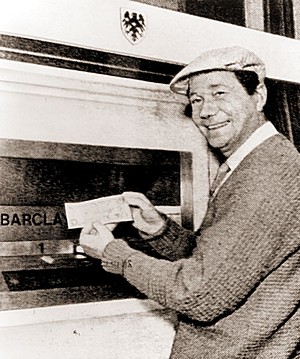 On the Buses
The idea was sold to the chief general manager of Barclays (over a pink gin, apparently) with the first person to withdraw cash from an ATM being none other than 'On the Buses' star Reg Varney, who took out some dosh from a bank in Enfield, north London, in 1967.
A blue plaque now marks the spot.
The Guardian explains how the first machines worked:
With plastic cards yet to be invented, customers put cheques impregnated with carbon 14, a mildly radioactive substance, into the machine which paid out a maximum of £10.

The machine detected the cheque, then matched it against a four-figure pin number.
PIN code for breakfast
The four-figure pin number came about  after he was chatting to his wife, Caroline, over the kitchen table.
She told him that she could only remember four figures, so that's where the standard began.
Snail farming and killer whales
In true British inventor style, Shepherd-Barron went on to produce a device to play the sound of killer whales to ward off seals from his fish farm – which only ended up attracting more seals.
He later found success as the first chairman of the Ross and Cromarty Enterprise.
After retirement, he had a go at snail farming, before passing away, aged 84, after a short illness.
We salute you Shepherd-Barron!
[Via]