Audio dons Sennheiser and sporty goods purveyors Adidas present have teamed up to create a range of tough headphones for folks who regularly like to shake a leg and get all damp and moist as a result.
Their rugged "sport-proof " designs have apparently been tested by Adidas athletes and are both washable and sweat-proof – so you can rinse off the headphones after a 'session'.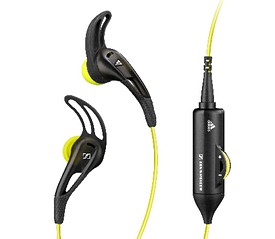 Designed to be used by sporty types busy chasing their 'personal goals' in all weathers, the range comes with the curiously monikered 'EarFin' – a gizmo which apparently guarantees that the buds stay firmly rooted in the athlete's lug 'oles – and Dupont Kevlar reinforced cables.
How does the water resistant thing work, do we hear you ask?
No? Well, we'll tell you anyway:
A unique moisture protection system (patent pending) protects the earphone from corrosive sweat and water, no matter how heavy the work out (and sweat) or how rainy it may be outside.

A special fabric with tiny pores, similar to Goretex used in outdoor jackets, prevents water or sweat from entering into the inside of the earphone. The acoustically neutral nature of the material assures that the sound quality is not affected.
Prices and availability
The Sennheiser – Adidas Sports series should be available now, so jog on down to your nearest store/web browser and bag yourself a pair of sweat-proof earphones.
Sennheiser/Adidas MX 680 High-Performance Stereo Earphones (EarFin Holding System for Sports)
£35
Sennheiser/Adidas OMX 680 High-Performance Stereo Clip-On Earphones
£43
Sennheiser/Adidas PMX 680 High-Performance Rugged Stereo Neckband Headphone for Sports
£45
Sennheiser/Adidas CX 680 High-Performance Noise-Isolating Ear Canal Headphones (Sports-Optimised Design)
around £65.