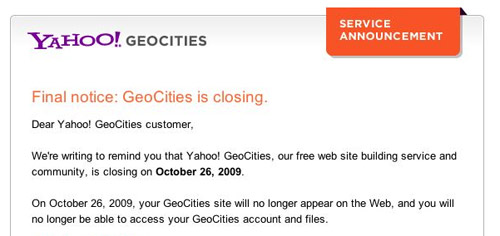 Yahoo has issued the date of the death sentence for the long-lived GeoCities' empire: October 26.
From that date GeoCities websites will no longer appear on the web, all content will be deleted and users won't be able to access their accounts.
Old internet hands will remember the free web hosting service with some affection: it started way back in 1995 as 'BHI' (short for "Beverly Hills Internet"), and after a short spell as 'Geopages' adopted its final name on December 15, 1995.
By June 1997, GeoCities had become the fifth most popular site on the Web, signing up its millionth 'Homesteader' later that year.
Two years later it was was the third-most visited website on the web, and was snapped up by Yahoo! for $3.57 billion in stock, months before the dot com crash.
Adverts and charges
With losses mounting, Yahoo! introduced paid premium hosting service at GeoCities, filled up pages with increasing amounts of adverts and introduced limits to monthly data transfers on free accounts, sending many users fleeing.
Following  the considerable growth of free and cheap hosting, and the popularity of self published sites like Blogger, MySpace and Facebook and blogging services, GeoCities time was up, and users abandoned the service in droves.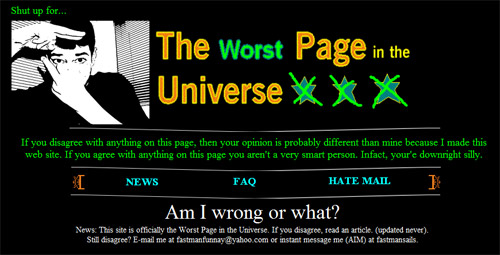 End of an era
For many, GeoCities was the place where they made their first website, thanks to the easy-to-use tools sparing users from the fiddly horrors of raw HTML code.
Back in the day when just getting a website on line felt like an achievement in itself, it provided many people with their first taste of self publishing and proved a handy stepping stone for authors, activists, designers and entrepreneurs.
We've spent years trawling through GeoCities sites, some of them interesting and informative, but most of them comically awful (the site's name was often the byword for dreadfully designed pages full of blinking text and garish graphics).
Described as "the first proof that you could have something really popular and still not make any money on the internet," GeoCities will be fondly remembered by many and parts of it will, at least, still live on in the Internet Archives.