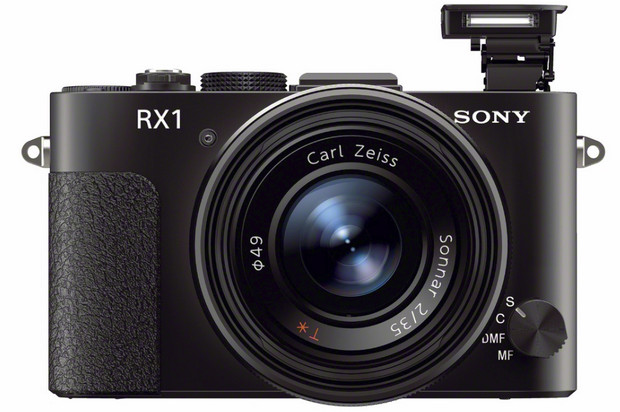 Sony has announced the new Cyber-shot DSC-RX1, a deliciously looking compact camera packing a full frame image sensor with a fixed 35mm F2 lens.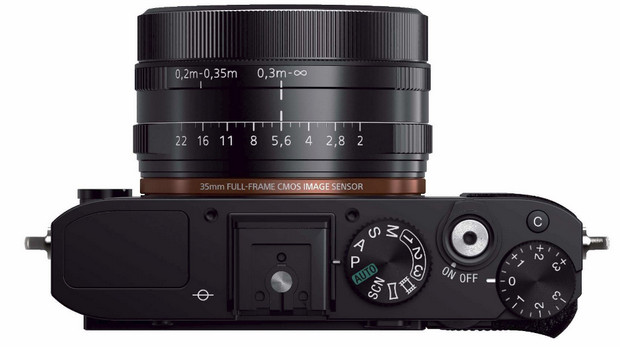 With that hefty 36x24mm CMOS sensor guaranteeing DSLR-rivalling quality, this looks to be a great travelling companion for pros and street shooters.
In line with its high-end aspirations, the RX1 comes with a manual aperture ring and dedicated exposure compensation dial for direct manual control.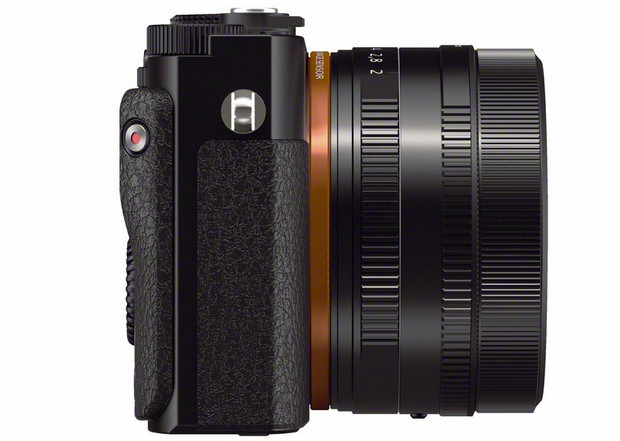 Sony say that the leaf shutter should serve up near-silent operation -making this a great camera for candids – and the RX1 can also capture Full HD movie footage at a choice of 60p or 24p (progressive) frame rates.
The camera's sensitivity range covers a generous ISO 100 – 25600, with Sony's Multi Frame Noise Reduction pushing  this
Naturally, this full frame beaut is indeed going to cost the earth, with the RX1 available this November for about $2,800 with the optional FDA-EV1K electric viewfinder and FDA-V1K optical viewfinder priced at $600 and $450, respectively.
Stand out features:
24MP full-frame (24x36mm) CMOS sensor
35mm F2 lens
ISO 100-25600
Focus range switch for focus down to 0.2m (14cm from the front of the lens)
Dedicated aperture ring
Five user-customizable buttons
Multi interface hotshoe (combines ISO 518 standard contacts and proprietary connector)
1.23M dot RGBW 'WhiteMagic' LCD
1080p60 HD movies in AVCHD (50p on PAL region models)
Focus peaking to aid manual focus
Bulb mode and threaded cable release socket in shutter button
Read DPReview's hands on preview here.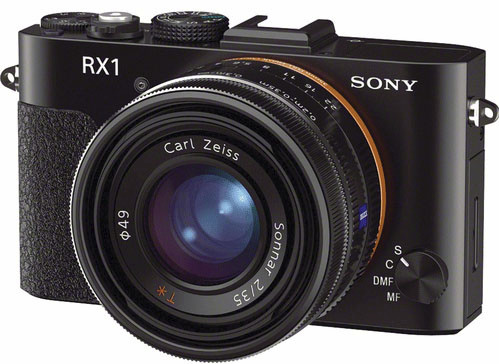 Here's the official press release:
Sony Introduces the World's First Full-Frame Compact Digital Camera

New Compact Cyber-shot® RX1 Camera features 35mm full-frame image sensor and wide aperture f/2 lens

SAN DIEGO, Sept 12, 2012 – For the first time, all the benefits of full-frame digital photography are available in a palm-sized compact camera.

The extraordinary new Sony Cyber-shot® DSC-RX1 digital camera packs an advanced 35mm full-frame 24.3 MP Exmor® CMOS sensor and exceptionally Carl Zeiss T*t 35mm f/2.0 fixed lens into a highly portable, lightweight camera body. Measuring approximately 4.5 inches wide by 3 inches tall and weighing just over a pound, it's significantly smaller and lighter than any full-frame DSLR yet sacrifices nothing in terms of image quality, HD video quality or manual control.

"The new Cyber-shot RX1 is truly 'one of a kind', offering a unique combination of size and performance that's never before been realized in the world of digital cameras," said Yosuke Tomoda, director of the Cyber-shot camera business at Sony Electronics. "With its highly advanced sensor and fast 35mm f/2.0 lens packed into a small, portable camera body, professionals, enthusiasts and advanced hobbyists can experience the world of full-frame imaging in new and different ways than they ever thought possible."

The new camera's unified lens and body design allows performance that few interchangeable lenses can match. The Carl Zeiss lens not only delivers spectacular image quality all the way to the edges of each frame, it incorporates a near-silent in-lens shutter and is far more compact than comparable lenses of interchangeable design. The camera also features full manual control options and an intuitive user interface, making it easy for photographers to adjust all settings quickly and easily.

The 35mm full-frame sensor inside the RX1 camera more than doubles the area of APS-C sensors commonly found in much bulkier DSLR cameras, allowing it to take in significantly more light while capturing content. With an effective resolution of 24.3 megapixels, it's capable of resolving the finest image details and most subtle textures for rich color reproduction and an impressively broad dynamic range.

The large sensor size also boosts the camera's sensitivity range to a generous ISO 100 – 25600, with the option to shoot as low as ISO 50 in expanded sensitivity mode. Similarly, ISO settings as high as 102400 can be achieved using Multi Frame Noise Reduction. This allows the camera to capture natural, low noise handheld images in near-dark conditions without needing flash.

The fast, bright Carl Zeiss Sonnar T* 35mm lens is a versatile choice for portraits, street photography and everyday shooting. This premium lens features newly designed optics including an Advanced Aspherical (AA) glass element, which contributes to the camera's extremely compact dimensions without sacrificing optical performance.

The lens' wide F2 maximum, 9-bladed circular aperture enable beautiful background defocus ('bokeh') effects to rival or exceed professional-class DSLR camera lenses. Additionally, it features a macro switching ring on the lens barrel which instantly shortens the minimum focusing distance to approximately 20cm (from image plane), allowing the camera to capture small, close-up subjects with exquisite detail.

The Cyber-shot RX1 camera also features an enhanced BIONZ® processing engine that rapidly handles data from the Exmor® CMOS sensor and also powers full-resolution burst shooting at up to five frames per second. The powerful processor can output image data in 14-bit RAW format, giving advanced users total freedom to express their creative vision throughout the shooting and post-production processes.

Despite the camera's extraordinarily compact dimensions, the new Cyber-shot RX1 model offers a full range of manual control modes on par with typical high-end full-frame DSLR cameras. Dedicated lens rings allow for fingertip control of focus and aperture, while a DSLR-style Focus mode dial on the front of the camera enables easy switching between focus modes. Top-mounted exposure compensation and mode dials are strategically placed for simple access and operation, while custom function and AEL buttons on the back panel are also easily accessible.

The new camera features a Quick Navi mode that allows fast, intuitive adjustment of camera settings. This is especially useful when using the camera with an optional viewfinder (sold separately). A memory recall (MR) mode is accessible via the mode dial so photographers can store and instantly recall up to three sets of camera settings.

Other refinements include a MF Assist function that magnifies a portion of the image while framing to simplify fine focus adjustments, as well as a Peaking function that highlights sharply-focused areas of the image on screen.

Additionally, the RX1 camera features By Pixel Super Resolution digital zoom technology, which allows for magnification of image size without sacrificing pixel count. This results in far higher quality results than are achievable with conventional digital zoom.

A Smart Teleconverter function crops a central portion of the image sensor, boosting effective magnification by 1.4x or 2x realizing an effective 49mm or 70mm focal length. With the extremely high pixel count of the full-frame image sensor, even zoomed and cropped images maintain generous amounts of fine detail when blown up for large print sizes.

In addition to beautiful still images, the Cyber-shot RX1 compact camera can capture high-quality, low-noise Full HD movie footage in all lighting conditions at a choice of 60p or 24p (progressive) frame rates. There's a full complement of P/A/S/M exposure modes during video shooting for creative flexibility.

The new camera also features 13 different Creative Styles for fine-tuning images, plus a wide range of Picture Effect treatments. Further, it has Auto HDR and D-Range Optimizer, bracket shooting (Exposure, DRO or White Balance) and Auto HDR shooting modes, and there's a Digital Level Gauge that indicates camera pitch and camera roll on the LCD screen for straight, even landscape and architectural shots.

New Accessories for Cyber-shot RX1

Shooting possibilities for stills and video are broadened by the camera's Multi Interface Shoe that accepts a growing range of accessories. Options include a high-quality OLED XGA OLED Tru-Finder™ EVF (model FDA-EV1MK) which allows for even greater manual focusing precision as well as an external optical viewfinder featuring Carl Zeiss optics (model FDA-V1K).

Also available are a thumb grip (model TGA-1) for sure, comfortable handling as well as a lens hood (model LHP-1) and jacket case (model LCJ-RXB).

Sony PlayMemories Services

The Cyber-shot RX1 comes preinstalled with PlayMemories Home™ (Lite Edition) software, allowing easy image transfers to a PC for managing, editing and printing. Available for free download, a full version of PlayMemories Home software adds movie editing and disc burning.

Also available for download, PlayMemories Studio™ allows game-like editing of photos and videos on PlayStation®3 systems. Images can be shared easily via PlayMemories Online™ service, the cloud-based sharing service from Sony that simplifies 'any time, any place' viewing on a wide range of connected devices.
Pricing and Availability

The Cyber-shot RX1 compact, fixed lens camera will be available this November for about $2800.

The FDA-EV1K electric viewfinder and FDA-V1K optical viewfinder will each be available at launch for about $600 and $450, respectively.

The thumb grip, lens hood and jacket case will also be available at launch for about $250, $180 and $250, respectively.

The new camera and all compatible accessories will be sold at Sony retail stores (www.store.sony.com) and other authorized dealers nationwide.

Please visit blog.sony.com/rx1 for a full video preview of the new Cyber-shot RX1 compact camera and follow #SonyCamera on twitter for the latest camera news.