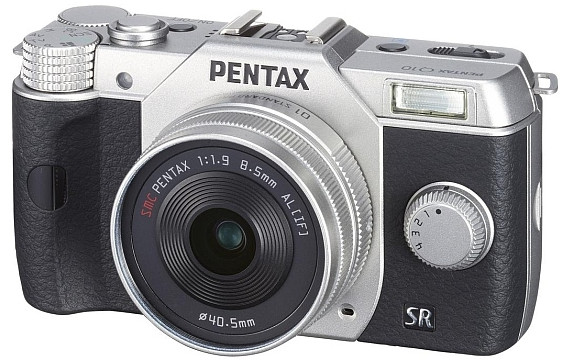 So small it looks like it was designed for the tiny hands of pixies, the Pentax Q10 is a super-compact, ultra-lightweight digital interchangeable-lens camera packing a 12.4-megapixel BSI CMOS sensor.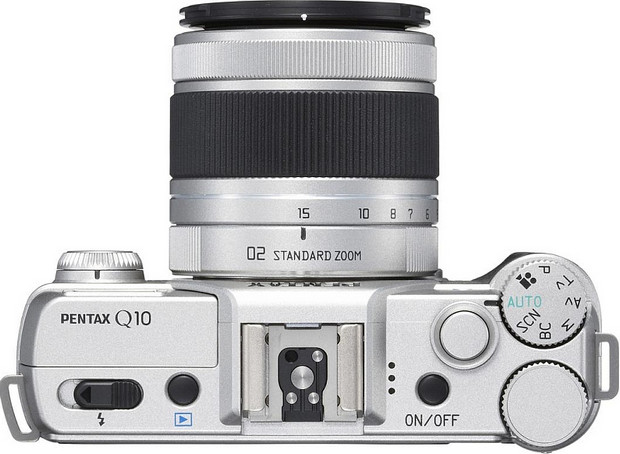 The pint sized Pentax comes with new, improved AF capabilities, anti-shake reduction, RAW file support and  Full HD movie-recording.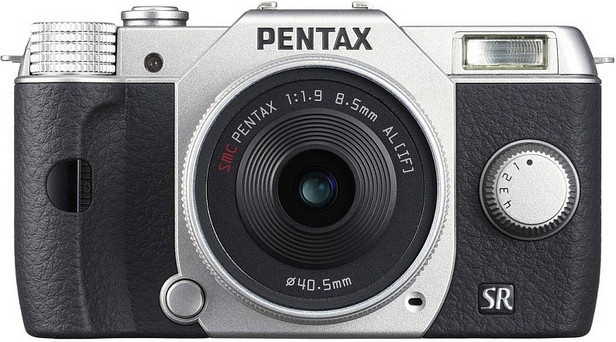 Capable of rattling off up to five JPGs at 5fps continuously, the Q10 comes with a three-inch LCD screen with a resolution of 460,000 dots, a Quick Dial to swiftly crank up the "creative visual effects", and a wee built-in auto flash with a guide number of 7 (in metres at ISO 200).
The Pentax Q10 will be available from early October in white, black and red finishes, with the single-lens kit (with the 5-15mm lens) costing a not-inconsiderable  £379.99/$599.95, with the double-zoom kit (which adds a 15-45mm lens) has been priced at £539.99.
We're not sure about these mini-me compact cameras – for this kind of money we'd be tempted to get something a bit bigger and with better lens support – but this is something rather cute about these little puppy-cameras. Aw.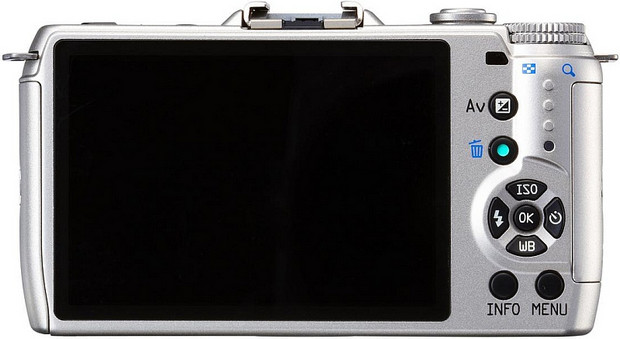 Here's Pentax's Press Release:
PENTAX Q10

A super-compact, ultra-lightweight digital interchangeable-lens camera, featuring a new image sensor for enhanced performance

PENTAX RICOH IMAGING UK LTD is pleased to announce the launch of the PENTAX Q10 digital interchangeable-lens camera. The latest model in the PENTAX Q series, this camera offers digital-SLR-quality photography to everyone.

The PENTAX Q10 is based on the popular PENTAX Q (launched in August 2011) — the world's smallest, lightest digital interchangeable-lens camera.*

Thanks to a newly adopted CMOS image sensor and an upgraded algorithm, the camera delivers a much-improved basic performance, such as higher-quality images and faster AF operation. At the same time, it retains all the creative features of its predecessor — including the bokeh control function to create a defocused effect typical of an SLR camera and the Smart Effect modes to apply various filters with a simple turn of the dial — allowing the photographer to produce more personalised images with minimal effort.

While its overall exterior design closely resembles the PENTAX Q, which was designed as a miniaturised version of a full-scale digital SLR camera, the PENTAX Q10 has several upgrades to its body design, such as a special grip for more stable hold of the camera, and improved operability and manoeuvrability.

Major Features

1. Exceptional image quality delivered by digital interchangeable-lens camera system

Thanks to the incorporation of a newly designed back-illuminated CMOS image sensor with outstanding high-sensitivity and low-noise characteristics, the PENTAX Q10 delivers high-resolution, rich-gradation images with approximately 12.4 effective megapixels and a top sensitivity of ISO 6400.

The combination of a high-performance imaging engine, developed using PENTAX's long-standing expertise in digital SLR camera development, and exclusively designed, high-performance Q-mount lenses, ensures that the PENTAX Q10 delivers clear, high-contrast images rich in gradation and texture, even at the edges.

With minimised high-sensitivity noise, the photographer can use the entire sensitivity range from ISO 100 to the highest ISO 6400 without the worry of annoying digital noise. The photographer can even take advantage of the HDR (High Dynamic Range) function, which produces one composite photo from multiple images, to create beautiful, fine-detailed images free of whitewashed highlights and blacked-out shadows.

2. Upgraded AF performance

Thanks to the new image sensor and an upgraded AF algorithm, the PENTAX Q10's autofocus operation is much faster than before, even when using a telephoto lens or shooting in dimly lit locations. An AF Assist Light is provided on the camera body to optimise focusing accuracy in the dark, while the Face Recognition AF function automatically detects up to 12 faces and pinpoints the focus on the main subject.

3. Quick-Dial to simplify the application of creative visual effects

By assigning the creative Smart Effect function to the easy-to-access Quick-Dial positioned on the camera's front panel, the photographer can effortlessly add the desired finishing touch to an image, while previewing the effect on the LCD monitor. Since the Quick-Dial has four positions, the photographer can assign four of their favourites from the nine Smart Effect modes in advance. In order to customise the PENTAX Q10 to accommodate specific shooting styles and user preferences, the user can also assign other options such as a custom image setting, a digital filter or an aspect ratio setting to this dial.

4. A selection of image-processing tools to create personalised images

Custom Image function to add distinctive finishing touches
The Custom Image function adds a distinctive finishing touch to an image. The user has a choice of nine Custom Image modes, including Bleach Bypass, which produces a dramatic, movie-like finish.

Digital filter function to apply artistic visual effects
The digital filter function lets the photographer apply a variety of visual effects without needing a computer. With a total 19 digital filters, 11 filters such as Toy Camera, Invert Colour and Posterization can be applied even during the shooting of still images and movie clips, while the remaining 8 are applicable only during playback. The user can even apply different filters one after another to a single image to create more inventive visual effects.

Smart Effect function for simple dial control of finishing touches
Using the Quick-Dial positioned on the camera's front panel, the user can quickly and effortlessly add a desired finishing touch to an image, while previewing the effect on the LCD monitor. From 9 Smart Effect modes, including Brilliant Colour, which provides a high-saturation finish, and Cross Process, with its dramatic unique-toned finish, the user can assign 4 favourite modes to the dial in advance.

5. High-quality, Full HD movie recording of extended movie clips

The PENTAX Q10 comes equipped with a Full HD movie-recording function employing the H.264 recording format, allowing the user to capture high-quality, extended movie clips (1920 x 1080 pixels) at a frame rate of 30 frames per second. The user can also take advantage of the advanced image-processing tools like the Smart Effect modes** and other built-in movie editing tools during movie shooting. With a push of the OK button on the back panel, the PENTAX Q10 even offers autofocus operation during movie shooting. The PENTAX Q10 also provides a micro-HDMI terminal (type D), which allows the user to simultaneously output both Full HD movie clips and sound to external devices via a single terminal.

6. Effortless Bokeh control

The PENTAX Q10's unique bokeh control function allows the user to purposely make the subject stand out by automatically assessing the relative distance between the in-focus subject and obtrusive objects in the field of view. Since this function simplifies the advanced, SLR-calibre technique of intentional defocusing, even a first-time digital photographer can effortlessly capture high-quality images with a beautifully defocused foreground and/or background.

7. SR mechanism for sharp, blur-free images

The PENTAX Q10 incorporates the PENTAX-developed SR (Shake Reduction) mechanism, which automatically shifts the CMOS image sensor to offset camera shake detected by the camera's motion sensor. As a result, the PENTAX Q10 produces sharp, blur-free images even under demanding conditions that are prone to camera shake, such as when using a telephoto lens, shooting in the dark without flash illumination, or capturing landscapes in the twilight.

8. Simple, user-friendly Auto Picture and Scene modes

The PENTAX Q10 features the PENTAX-original Auto Picture mode, which automatically selects the most appropriate shooting mode from such options as Portrait, Landscape and Macro for a given subject or scene, then optimises all affecting parameters, such as shutter speed, aperture, white balance, saturation, contrast and sharpness. It also provides 21 Scene modes including Night Scene Portrait, Pet and Backlight Silhouette, allowing even an inexperienced digital photographer to choose the best exposure mode for a complicated scene with the simple choice of an icon on the LCD monitor.

9. Dependable, flexible exposure system

The PENTAX Q10's comprehensive exposure system assures all the advantages and flexibility of a digital lens-interchangeable camera system. To accommodate user preferences and varying photographic applications, it offers a choice of four different exposure modes: the all-purpose Programmed AE (P) mode, which automatically selects an optimum combination of aperture and shutter speed; the Shutter-Priority AE (Tv) and Aperture-Priority AE (Av) modes, which allow the photographer to faithfully reproduce specific creative intentions on resulting images; and the Metered Manual (M) mode. The photographer can even instantly switch the exposure mode from P mode to Av or Tv with a simple turn of an electronic dial.

10. High-speed continuous shooting at approximately five images per second

The PENTAX Q10's high-speed continuous shooting mode allows the photographer to record up to five images (in JPEG recording format) in a single sequence, at a maximum speed of approximately five images per second. This mode comes in handy when trying to preserve the action of fast-moving subjects in a series of images.

11. Dependable DRII mechanism for effective dust removal

The PENTAX Q10's DRII (Dust Removal II) mechanism effectively prevents annoying dust spots from spoiling captured images, even after the user changes lenses outside. Like the PENTAX K-5 and 645D digital SLR cameras, it incorporates a highly effective supersonic vibration mechanism, which vibrates the image sensor at high speed to shake the dust off its surface.

12. Built-in auto flash with pop-up mechanism

The PENTAX Q10 comes with a built-in auto flash (guide number seven at ISO 200/m). The photographer can either use it at the default position, or raise it to the pop-up position with simple operation to widen its discharge angle to cover a 28mm angle of view (in the 35mm format).

13. Other features

High-resolution, wide-view 3.0-inch colour LCD monitor with approx. 460,000 dots

Long battery life through incorporation of power-efficient components such as a new image sensor

Remote control receptors on front and back panels

HDR mode to produce a photo with extra-wide dynamic range from three images of varying exposures

TTL image-sensor metering, with a choice of multi-segment, centre-weighted and spot modes

CTE white-balance control mode to emphasize the predominant colour of a particular scene, such as the sunset

A choice of image size (4:3, 3:2, 16:9 or 1:1) to accommodate different subjects and applications

Multi-exposure mode (up to nine exposures on a single image), with an auto exposure compensation function

Interval shooting mode, convenient for recording landscapes and flowers/plants from the exact location and angle

A choice of data storage medium: SD, SDHC and the new-standard SDXC*** memory cards

SILKY Developer Studio 3 for PENTAX RAW-data development software (developed by Ichikawa Soft Laboratory) included; in-camera RAW-data development also available

Optional accessory

Camera Case O-CC131
Exclusively designed for the PENTAX Q10, this camera case has two strap lugs at its sides to keep the camera suspended in a level position, so that the photographer can respond quickly to unexpected shutter opportunities. This elegant high-grade case perfectly protects the camera from shock and scratches.

The PENTAX Q10 will be available from early October in white, black and red.

RRPs
Q10 + 5-15mm £379.99
Q10 + 5-15mm + 15-45mm £539.99

♦ HDMI, the HDMI Logo and High-Definition Multimedia Interface are trademarks or registered trademarks of HDMI Licensing LLC.
♦ All other brands or product names are trademarks or registered trademarks of their respective companies.
♦ Designs and specifications are subjects to change without notice.

* For a digital interchangeable-lens camera, as of August 31, 2012 (based on PENTAX research).

** The frame rate may vary when a selected Smart Effect mode requires non-standard image processing.

*** Not compatible with UHS Speed Class transfer rate.