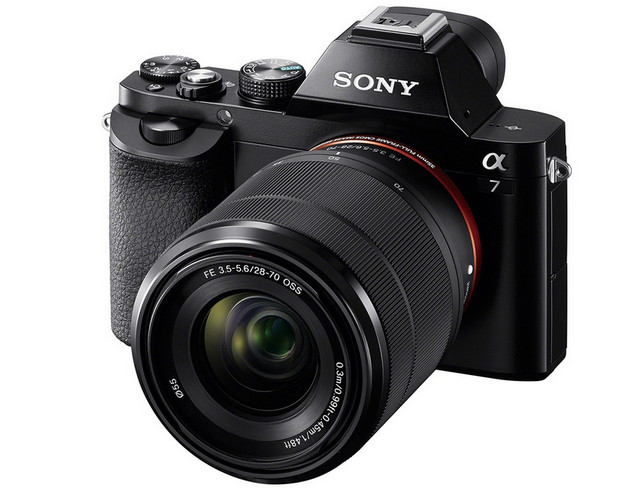 Sony has announced the world's first consumer-oriented full-frame mirrorless interchangeable lens cameras, in the shape of the A7 and the A7R snappers.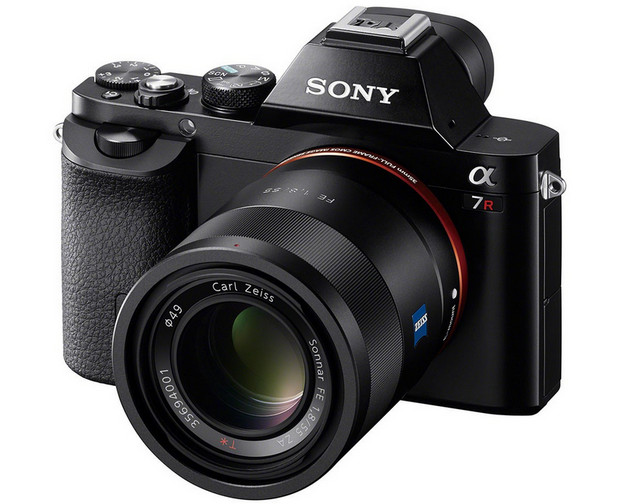 Both cameras look more or less identical, coming in a rugged Sony package that we have to say we don't find too attractive – but who cares about the looks when you've got full frame sensors lurking inside, promising very high quality results.
Both cameras come with chunky manual controls along the top plate (including a handy exposure compensation dial), a pentaprism-esque EVF housing and a full sized handgrip.
Inside can be found a new BIONZ X processor, backed by XGA OLED 'Tru-finder', 3-inch LCD, plus Wi-Fi connectivity with NFC, and 60p video recording.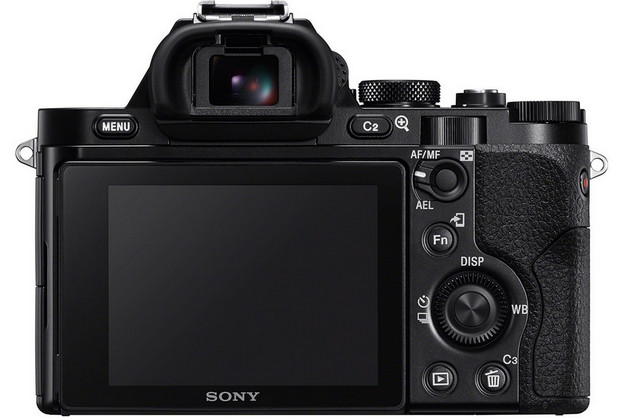 Apart from the addition of a teensy red '7' on the front of the  A7R, the differences are all internal, with the A7R having  no optical low-pass filter and packing Fast Intelligent AF technology that delivers "blazingly quick, accurate autofocus".
The cheaper (actually, make that less expensive) A7 comes with a slightly humbler 24 megapixel sensor with a low-pass filter and on-chip phase detection.
The bodies are designed around the Sony NEX E-mount, though you'll need to shell out for the new 'FE' lenses to take advantage of the larger sensor – existing lenses for Sony's NEX range of APS-C mirrorless interchangeable lens cameras will produce a cropped image, which seems a bit of a swizzle.
The A7 will be sold in a body-only kit for $1699 or with a new 28-70 F3.5-5.6 OSS lens for $1999. The A7R only comes as a body-only deal, and is priced at $2299, with shipping for both cameras pencilled in for December.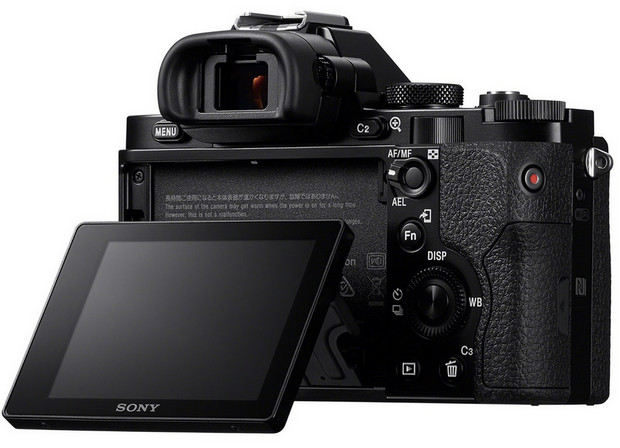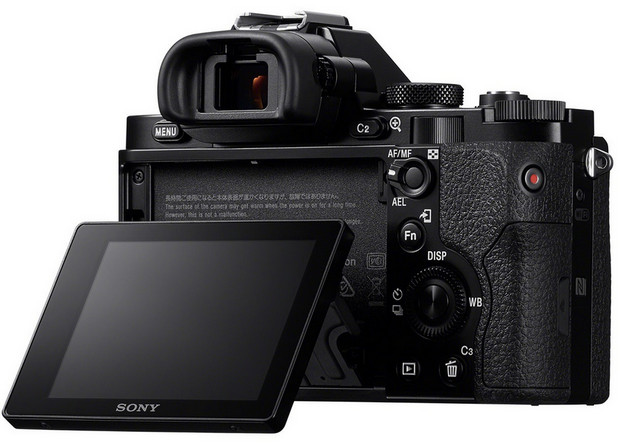 Here's the press release:
Sony Unveils World's First Full-Frame Mirrorless Cameras 1

New Sony A7 Series Are World's Smallest, Lightest Full-Frame Interchangeable Lens Cameras 2

SAN DIEGO, Oct. 15, 2013 – Sony's new A7 and A7R digital cameras are the world's smallest full-frame interchangeable lens models 2.  Highly anticipated by professional photographers and imaging enthusiasts alike, the two new cameras offer an unmatched combination of creativity, customizability and portability.

The A7R model features a 36.4 effective megapixel 35mm Exmor® CMOS sensor – the highest resolution sensor in the history of Sony's A line – with no optical low pass filter for added resolving power and increased image detail.  The A7 model boasts an impressive 24.3 effective megapixel 35mm Exmor® CMOS sensor and an innovative fast Hybrid AF system.

Each camera is equipped with advanced imaging features including a powerful new  BIONZ® X processor; fast AF capabilities; a clear, bright XGA OLED Tru-finder, full HD 60p video recording, Wi-Fi® and NFC connection, dust-and moisture- resistance and more.

"With these new A7 camera systems, Sony has completely redefined the look and feel of a professional-grade digital camera," said Mike Kahn, director of the interchangeable lens camera business at Sony Electronics.  "The A7 and A7R cameras are significantly smaller, lighter and more portable than any other full-frame interchange lens camera yet deliver image quality, power and performance that professionals and enthusiasts crave."

Both cameras feature full customization and control to meet the needs of the most demanding photographers.  There are 9 different customizable buttons and 46 assignable functions that can be adjusted based on shooting preferences, including fully customizable front and back dials, a rear control wheel and an exposure compensation dial 3.  Users can preview all changes to photographic settings in real-time on the high-contrast, 2.4 million dot XGA OLED Tru-Finder or the high-resolution tiltable 3" LCD screen.

The new cameras share a powerful new BIONZ X processor that accurately reproduces details in textures in real-time via extra high-speed processing capabilities, and allows for exceptional low noise performance in all types of lighting conditions.  Additionally, the powerful processor combined with the advanced, high resolution sensors allow both cameras to shoot pro-quality Full HD video (AVCHD progressive, 1920x1080p @ 60p) with richly detailed colors and ultra-low noise.

Clear Image Zoom has been enhanced for video recording as well, allowing for powerful close-up shots without sacrificing pixel count.  Other pro-style movie features include an audio recording level control and display plus a "live" HDMI® output for passing through video to an external monitor or recording device.

The new cameras both have on-board Wi-Fi and NFC capabilities for instant image sharing and transfer to compatible smartphones and tablets.  The A7R and A7 models can access Sony's platform of PlayMemories™ Camera Apps, allowing users to add new effects, filters, utilities and more.  This platform includes new 'Multiple Exposure' app, which automatically combines sequential exposures into one creative shot, and 'Smart Remote Control' 4, which allows for direct control of exposure and shutter speed from a connected smartphone and is particularly useful for self-portraits or group shots 5.  Find out more at www.playmemoriescameraapps.com .

The new A7 and A7R cameras each have a tough, magnesium alloy build and are dust and moisture resistant for standing up to some of the toughest weather conditions.

A7R Camera

Designed for professional photographers and highly advanced enthusiasts, the new A7R model is the world's smallest and lightest full-frame interchangeable lens camera2.

It has an impressive 36.4 effective megapixel full frame sensor and no optical low pass filter, ensuring that the extraordinary resolving power is fully realized and resulting in an unprecedented level of detail and clarity in images.

The camera features a new Fast Intelligent AF technology that delivers blazingly quick, accurate autofocus.  Additionally, there are a total of three selectable sizes for the Flexible Spot AF frame, minimizing the risk of accidentally focusing on the wrong target.

A7 Camera

Offering an exciting entry into the world of full-frame photography, the A7 camera features an advanced 24.3 effective megapixel full-frame Exmor CMOS sensor paired with the powerful new BIONZ X processor.

The exciting new camera has an innovative Fast Hybrid AF system that combines phase- and contrast-detect AF methods to ensure speedy, accurate autofocus.  It can also shoot at up to 5 fps continuously with non-stop AF tracking, allowing it to keep pace with fast-moving athletes, wildlife or energetic children.

New Sony A Lenses and Accessories

There are a total of 5 new full-frame E-mount lenses designed to take full advantage of the powerful imaging capabilities of the A7R and A7 cameras, including mid-range zoom lenses from Sony and Carl Zeiss, two bright Zeiss Sonnar T*™ prime lenses and a premium-quality G Lens™ telephoto zoom.  Sony's growing E-mount interchangeable lens lineup now consists of 21 different lenses including the new full-frame models.

In addition to the new lenses, there are also two new-generation mount adaptors that give photographers the ability to utilize full-frame Sony A-mount optics on the A7 and A7R cameras.  The LA-EA3 adapter simply adds compatibility for existing A-mount lenses the new cameras, while the LA-EA4 model adds the ultra-fast focusing and shooting capabilities of Sony's innovative Translucent Mirror Technology.

There is also a new vertical grip (VG-C1EM) that offers greater comfort during vertical shooting and can accommodate two separate NP-FW50 batteries for extended battery life and shooting time.  A new BC-TRW compact external battery charger that quickly charges batteries and is great for travel, and FA-CS1M off camera shoe allows the use of external flashes (HVL-43M, 20M) in off-camera wired applications.   Additionally, the new LCS-ELCA premium soft leather carry case protects the A7 and A7R cameras from scuffs and marks while being carried.

Pricing and Availability

The Sony A7R and A7 full-frame interchangeable lens cameras will be available for purchase this December.

The A7R camera will be offered as a body-only for about $2300.

The Sony A7 compact system camera will be offered with a 28-70mm F3.5 – F5.6 full-frame lens (model SEL2870) for about $2000.  It will also be offered as a body-only for about $1700.

The versatile new LA-EA3 and LA-EA4 mount adapters will be available in December for about $200 and $350, respectively.

The new VG-C1EM vertical grip and LCS-ELCA premium case will also be available in December for about $300 and $ 140, respectively.

The new camera and all compatible accessories will be available at Sony retail stores (www.store.sony.com) and other authorized dealers nationwide.

Please visit www.blog.sony.com for a full video preview of the new Sony A7R and A7 full-frame cameras and follow #SonyAlpha on twitter for the latest A camera news.

1 According to survey conducted by Sony as of October 2013, for non-reflex interchangeable lens digital camera equipped with auto focus function.

2 According to Sony's internal research as of October 2013

3 Some functions can only be assigned to certain buttons

4 'Direct Upload' available at launch. 'Multiple Exposure', 'Smart remote control v2.10', 'Picture Effect+', 'Photo Retouch' and 'Lens Compensation' will be available for the A7 / A7R by the end of 2013

5 A7 series will become compatible with "Camera Remote API beta"(http://camera.developer.sony.com) , API (Application Program Interface) for remote operation of Sony camera with Wi-Fi-equipped smartphones and electronic tablets, after installation of the most recent Smart Remote Control that is distributed from countries providing PlayMemories Camera Apps.