With people's thoughts drifting to sun, sea, sandy beaches and summer, Sony has just announced a new waterproof digital camcorder – the Sony Handycam GW55VE.
Dust resistant, waterproof to depths of 5m and shockproof to 1.5m, the GW55VE packs an Exmor R CMOS sensor and can capture Full HD video at 50 frames per second.
There's a 10x optical zoom onboard, starting at a modestly wide 29.8mm, with Optical SteadyShot with Active Mode image stabilisation technology aiming to keep the wobblies at bay.
There's a 7.5cm/3" Xtra Fine LCD touch-panel for monitoring the action, with Face and Motion detection and an Intelligent AUTO mode able to recognise up to 99 scene types.
The new Sony Handycam GW55VE waterproof camcorder should be available in the UK from mid-May 2012, and is ready and waiting to join your bucket and spade on Britain's balmy beaches. Or something.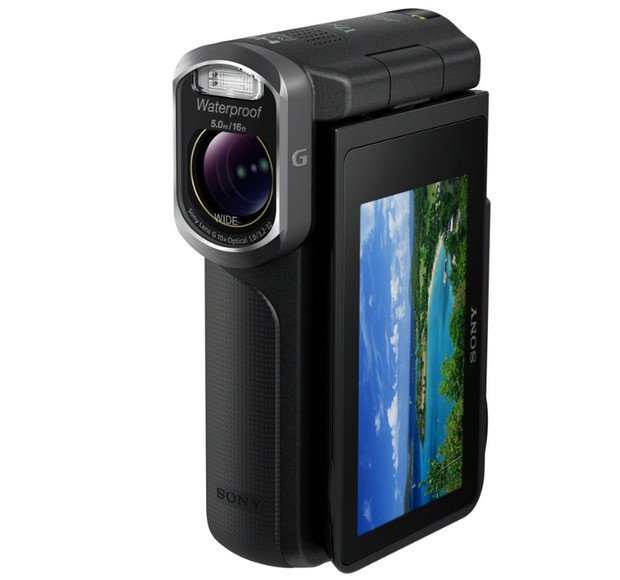 Sony Press Release
Sony introduces waterproof Handycam®

Feature-packed GW55VE camcorder resists water to 5m*, dust** and drops from 1.5m***

* Exmor R™ CMOS sensor captures beautiful Full HD 50p video, even in low light
* G Lens with 10x optical zoom (Extended Zoom 17x) and 29.8mm wide angle
* Optical SteadyShot with Active Mode for clearer footage when walking or zooming
* Detail-packed still photos up to 20.4 megapixels
* Intelligent AUTO adjusts settings for great results every time
* 7.5cm/3" Xtra Fine LCD touch-panel

It's your perfect poolside partner. Great for trips to the beach, snorkelling expeditions and fun-packed family days out, the new Handycam® GW55VE camcorder is waterproof to depths of 5m*. It also resists dust** and shocks from a height of up to 1.5m*** – so there's no need to worry about a sudden shower of rain, or accidental drops by the pool or on the beach.

Made for everyday adventures, waterproof Handycam® comes packed with advanced technology for clear, stable Full HD video and stills in any situation.

Image quality is everything you'd expect from Handycam®. The Exmor R™ CMOS Sensor captures beautifully detailed, low-noise video footage and photos, even in low-light conditions where other camcorders struggle.

It's teamed with a high-quality G Lens by Sony, capable of capturing everything from wide-angle scenes to dramatic close-ups. Extended Zoom boosts 10x optical zoom range to a powerful 17x maximum magnification: By Pixel Super Resolution processing ensures clear, ultra-detailed high-zoom shots.

Even when you're zoomed in close or walking along, video footage looks clearer thanks to Optical SteadyShot with Active Mode that corrects hand-shake for stable results.

In a Handycam® first, Intelligent Sweep Panorama lets you capture extra-wide scenes with a huge field of view. Just press the shutter button and sweep the HD camcorder to take in the biggest scenes. Using Face and Motion detection, Handycam® makes sure that even moving people and objects are reproduced naturally as you sweep the camera.

Also new to Handycam®, Self Portrait Timer ensures properly framed, clearly focused arms-length photos of you and your friends. Thanks to Face Detection, the GW55VE ensures beautiful self-portraits with no cut-off heads.

Not sure how to get the best out of any shooting situation? Intelligent AUTO recognizes up to 99 scene types, adjusting camcorder settings for best results. There's even a special Underwater mode so those under-sea videos look better with rich, natural colours.

An ideal travel partner, waterproof Handycam® also features on-board GPS that logs where all your clips and photos have been taken. See your current position onscreen, or view all those GPS-logged memories back home on your laptop with exciting online maps.

An optional, matching case is available in the UK for the new Handycam® GW55VE waterproof camcorder. The new LCM-GWA case offers stylish but functional protection whether you're in the city or on the beach. The water repellent material won't be damaged even if you put the camera away wet, and this tough little case will be available in black or white to match this great new camera.

The new Handycam® GW55VE waterproof camcorder from Sony is available in the UK from mid-May 2012.