If your wallet won't stretch to the outlandish sums demanded for top-line image editors like Photoshop, or your editing needs are more basic, it might be worth taking a peek at the lightweight StylePix editor.
Small enough to slap on a netbook or thumb drive, StylePix image packs a fair bit of image-editing power or most everyday tasks and comes with a price that's sure to please: free. Oh, yes!
The program supports all the major image formats, including .png, .tif, .gif, .bmp, and more, and lets you work on multiple files simultaneously .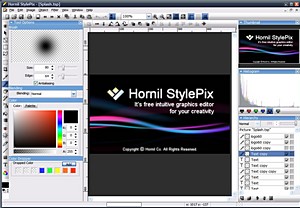 A shedload of filters are on board for adjusting colour, sharpening, adding blur, and fiddling about with colours and hues and there's also a handy batch process mode which lets you rename, resize, rotate, and apply filters en masse.
A healthy selection of drawing tools are included to let you erase, spray, brush, and add shapes to your pictures, backed by neat red-eye and dust removal filters.
The whole program weighs in at a mere  20 MB, making it a handy portable tool for quick edits.
StylePix runs on Windows XP or higher and is available for free  from hornil.com.
Here's a full run down of its features:
Convenient working environment
– png, jpg, bmp, tif, gif, tga file formats are supported
– Working with multiple files can be opened simultaneously
– Multi-level undo-redo support, and action list display
– Zoom in/out and the full-screen view and guides, rulers, grid support
– Thumbnail, histogram and waveform view for current editing image
– StylePix own file format(.tsp) support
Variety selection tools
– Auto-range, colour-range, and rectangular, circular, polygonal, lasso area selection, and transformation options
Variety of drawing tools
– Brush, eraser, spray, clone-brush, lines, rectangles, circles
– Multi-line text editing
– Flood fill and gradient fill support
– 20 kinds of blending modes
– Colour picker with HSV colour model

Review and convenient image viewing
– Folder explorer and thumbnail view supports
– Full-screen slide show
– Browse tool
Batch processing
– Rename, resize, rotate, and apply filters for multiple files
Image transformation tools
– Rotate, flip
– Crop tool
– Free transform tool

Correction-restore and enhancement tools
– Dust removal, Red-eye removal tools
– Lighten, darken, blur, and sharpen tools
30 kinds of practical image filter
– Color adjustment filters
– Sharpen and blur filters
– Mosaic, noise filters
– Style Filter
– Rendering filters
– Morphological filters
– Noise filters
– Distort filters
– Convolve filters
– Photo Enhancement filters
Multi-layer support
– Multi-layer editing, and group support
– 30 kinds of blending modes and transparency for each layers
Change desktop background
Applications
– Photo retouching & enhancement
– Photo processing with variety of filters
– Dot-image painting
– Web design (banner, logo etc)
– Batch processing(making thumbnail etc)
– Free hand drawing
– Image composition
System Requirements
– Supported Operating Systems:Windows XP/Vista/7/2000/2003 or compatible OS