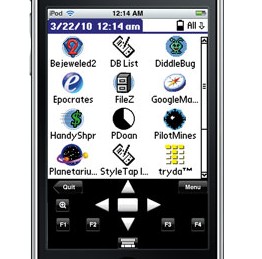 Styletap – the nifty program that lets you access the Palm OS catalogue of over 30,000 apps on other mobile platforms – has been released for the iPhone.
The StyleTap Platform for iPhone app packs a substantial feature set, supporting  TCP/IP networking, audio recording and playback, the ability to use the multi-gigabyte storage as a virtual memory card, and cut/copy/paste of text between native and Palm OS applications.
The app impressively also gives Palm OS applications access to the iPhone GPS by providing location information in standard GPS NMEA format.
With over 30,000 Palm OS  applications ready to be used on your iPhone, you'd think that this is something of a must have app, but sadly there's a bit of a catch – you have to jailbreak your phone first, as Gregory Sokoloff, CEO of StyleTap explains:
Naturally, we would prefer to be able to offer this product through the App Store, but unfortunately this is not currently possible due to Apple's restrictive policies, and instead this version of StyleTap will run on jailbroken devices. Although there are many useful and entertaining applications available through the Apple App Store, we continue to receive a flood of emails from users telling us that they need StyleTap in order to keep running the applications, not available on the App Store, that are critical to their lives and businesses."
The site offers instructions for installing StyleTap Platform using Cydia, and you can grab  can visit www.styletap.com/iphone for instructions on obtaining a free 14-day trial of the iPhone version, or shell out a rather hefty US$49.95 to bag the app.
Features:
Runs most applications for the Palm OS® platform on iPhone and iPod touch devices.
Supports application programs written for the Palm OS 5.2 platform or earlier versions.
Includes support for programs that use native ARM code (PNOs, often called "ARMlets").
StyleTap Platform is very fast – often running applications faster than on the native Palm OS devices.
Users can cut and paste text and bitmaps between Palm OS applications and native iPhone apps, as well as being Palm OS programs.
Audio recording and playback
Support for a "virtual memory card" (applications using VFS), for very large application databases and files (e.g. medical apps, dictionaries, bibles, etc.) that won't fit in main memory. (Since the iPhone does not support external memory cards, StyleTap makes the iPhone multi-gigabyte flash memory appear to be a "virtual memory card" so these applications can continue to work properly.)
Unique backwards compatibility features enable both older and newer programs to perform direct screen updates.
Provides virtual "function buttons" to emulate the hardware buttons on Palm devices. (useful for playing many game)
Supports TCP/IP connectivity
Supports serial connections and Bluetooth over serial (RFCOMM) for communicating with GPS units, probes, calibration devices, etc.
Support for the iPhone GPS. StyleTap provides iPhone Core Location information to applications as standard GPS NMEA strings through the Palm OS serial API.
Vibration (on devices equipped with the appropriate hardware)
Initiating phone calls (iPhone only)
Invoking Safari browser
Exporting vCards (i.e. address book info) into iPhone Contacts.