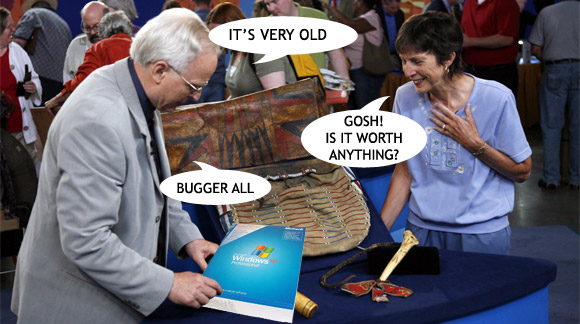 If more evidence were needed of the business-repelling qualities of Microsoft's  deeply flawed Vista operating system, further proof comes in the shape of an astonishing statistic that reveals that nearly three quarters (74%) of business PC's are still running Ye Olde XP.
Windows XP is getting on to be a decade old now, with the first version being released all the way back in 2001 (and in case you didn't now, the name "XP" is short for "eXPerience").
Tammi Reller, CVP of Microsoft Windows, casually slapped down this fact at the Microsoft's Worldwide Partner Conference, but was quick to shove it in the PR tumbler drier, set it to maximum spin and insist that this meant there was a huge opportunity for Microsoft to convert XP users into Windows 7 users (which, admittedly, is near-infinitely better).
Vintage PCs
Interestingly, Reller also said that the average age of a PC is a positively venerable 4.4 years old – the highest it's been in a decade.
Tammi cranked up the spin cycle once more, insisting that this is once again great news for Microsoft because it means there's zillions of folks out there ready and willing to upgrade their Windows computers, contributing to the 350 million Windows 7 licenses it expects to shift this year.
[Via]