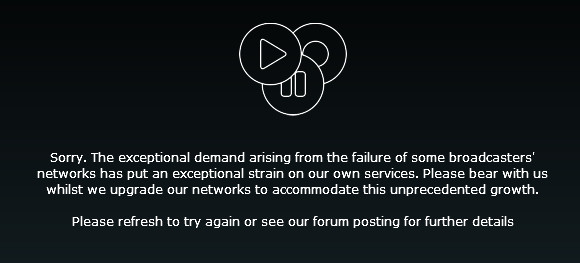 Possibly put under extra-strain from viewers logging on to watch the enthralling Arsenal vs Barcelona football game on ITV, but our favourite TV streaming service, TVCatchup, was wobblier than Grobbelaar's legs earlier tonight.
We couldn't access it at all for the start of the second half, with a notice on the site blaming the problem on "the failure of some broadcasters' networks."
Happily, the service is back up for us and we're soaking up more lovely football.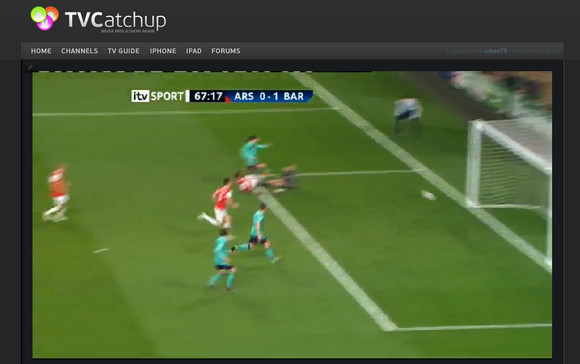 In case you've never used TVCatchup, it's a fantastic service that lets you view a host of UK channels (like BBC, ITV, Channel 4, Channel Five and free to air Sky channels)  in your desktop or mobile browser for free.
Here's Wikipedia to explain the ways you can access the service:
As of November 2010, the service can be viewed on any average computer with a web browser with Adobe Flash installed. As it is in Flash 10 format, it can also be viewed on a PS3. The service can also be viewed on the Windows Media Center Functions of Windows Vista (Home Premium and Ultimate) and Windows XP Media Center Edition 2005.

There was also an Adobe AIR desktop application released in Beta mode on 28 April 2009, which was to be gradually updated to include features such as a full TV guide and PVR with a feature to enable iPhone owners to use the service also in Beta. iPhone users can access the service by navigating to http://iphone.tvcatchup.com in their Safari mobile browser.

It is also possible to view on the iPad by using the iPad version which released Version 1.6 on 28 October 2010, at http://ipad.tvcatchup.com via Safari on the device. Android users on version 2.2 (Froyo) or above can use http://m.tvcatchup.com via the browser to access the website and have full access to all the streams.