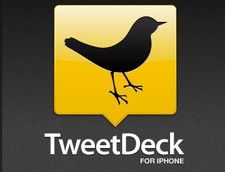 The popular TweetDeck free app for Apple iPhone and iPod touch users has been updated to v1.3, and introduces support for Twitter Lists and geo-tagging.
Tweetdeck lets users create groups, search Twitter, manage multiple accounts, and post tweets or share photos, videos, links and more via a customisable interface, which automatically syncs with its desktop counterpart.
It's our current choice of Twitter client for iPhones, although the interface can seem a bit bewildering and searching is unnecessarily fiddly. Why can't they sort out a simple search box?
Tweets can now automatically be geo-tagged with the current location using the iPhone's GPS, and there's an inline map available showing the location of tweets.
The  'View on Map' feature lets you view all geo-coded tweets from a selected column and plots them on a map, with the option to zoom in and check out the exact location of your Twitterin' chums.
v1.3 update details:
Geo-tagging of tweets
Tweet detail shows map for geo-coded tweets
View all geo-coded tweets from a column on a map
New-style Retweets displayed in stream, showing originator and retweeter name
Send new-style or old-style retweets, save your preference & easily change on a per-tweet basis
Add columns for Twitter Lists
Numerous bug fixes, including Facebook UID issue
Tweetdeck for iPhone feature list:
Tweet directly from your iPhone or iPod Touch.
Organise and update Facebook.
Upload video direct to Facebook and 12seconds.
Collect tweets in your immediate area based on geolocation.
Manage multiple Twitter accounts.
Cross post to multiple accounts, including Facebook.
Turn popular twitter trends into search columns.
Reply to tweets and send direct messages. Reply-to-all as well.
Easily re-tweet messages.
View notifications for new tweets received.
Continuously sync between your desktop and iPhone.
Create Groups to easily follow all your friends.
Follow topics in real-time with saved searches.
Share photos with Twitpic, YFrog and now TweetPhoto.
Shorten links with your favourite URL shortener, now including bit.ly support too.
Follow and un-follow people.
Shake your iPhone to refresh columns.
Send tweets as email (3.0+).
Recent hash tags are remembered for repeated use.
Choose between a light or dark theme.