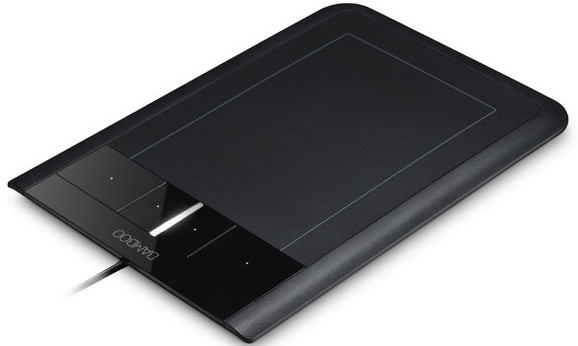 Wacom has thrown down the latest generation of its affordable Bamboo tablets, and added a wireless option to the range.

The cheapest tablet – the basic Bamboo Pen – is a pen-only affair that retails at £49.99, but the fun starts at £74.99 for the Bamboo Pen & Touch which combines digit-prodding action with the accuracy of the included pen.
The black tablet is contrasted with a lime finish and includes a bay for the wireless accessory kit.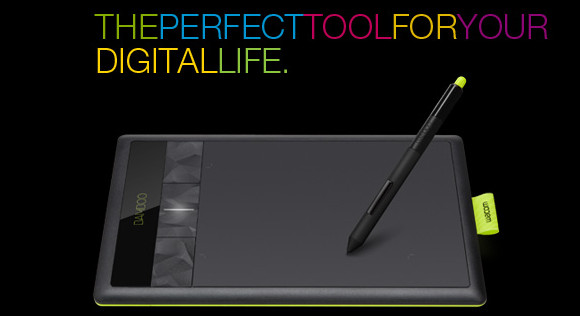 The top of the range Bamboo Fun Pen & Touch tablet comes in two sizes, £89.99 (small) and £169.99 (medium), and comes in a silver finish that apparently "screams premium design".
Included in the price tag is a decent software bundle comprising of Adobe Photoshop Elements 8/Elements 9 (for the small and medium tablets, respectively) and ArtRage 3. The medium-sized tablet also lobs in Corel Painter Essentials 4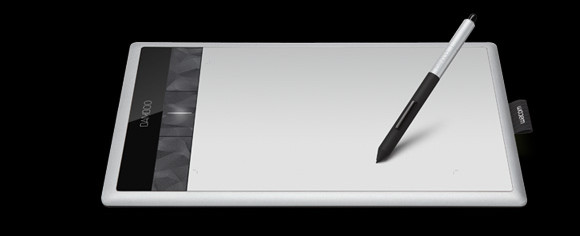 Go wireless
Both the Bamboo Fun Pen & Touch and Bamboo Pen & Touch tablets are compatible with the Bamboo wireless accessory kit, which includes a wireless dongle to connect the tablet wirelessly and simply to PCs, Macs and laptops. It is priced at £34.99.
[Wacom]
Enjoy computing with a boost of Bamboo

Creating, editing and sharing images and documents is now made easier with the new wireless, interactive Bamboo pen tablet from Wacom

To meet the needs of the increasing number of social and creative computer users, Wacom today launches an all-new line-up of its market-leading Bamboo tablets. The multi-touch and pen tablets now boast wireless capability, allowing users more flexibility to bring ideas and creativity to life through an intuitive, versatile and fun computing experience.

Ideal for everyone that wants to create personalised digital content and use a more intuitive input device, Bamboo enables anyone to express their creativity. The range of colourful interactive tablets includes the Bamboo Fun Pen & Touch (small/medium), the Bamboo Pen & Touch (small) and the Bamboo Pen (small). The lightweight Pen & Touch and Fun models are now wireless capable and ideal for working while relaxing on the sofa or taking out and about. Users can benefit from hours of cable-less freedom. In addition, the improved design and combination of multi-touch and pen-on-paper-feel technology delivers a more connected, inspiring and fun way to use a computer.

Precise Pen & Multi-Touch Experience

For fast, easy navigation of PCs or Macs, all Bamboo tablets combine the pressure-sensitive, battery-free and cordless pen experience with multi-touch functionality that Wacom is renowned for. The pen's design has been improved. Now offering a more aesthetic shape due a new soft touch grip area, improved pen buttons and new eraser shape, it still maintains the impressive 1024 pressure levels and enables users to make accurate cursor movements and handwritten notes. The multi-touch experience is enhanced and more intuitive, so sweeping with fingers over the tablet to scroll through documents, surf the web, rotate images or flick through photo galleries is quick and easy.

In addition, with Bamboo Paper, a seriously fun new Bamboo app, Wacom provides users with the ability to create virtual notebooks for their computers, letting them share their ideas visually with handwritten notes, sketches or doodles. Bamboo Paper is available as a free app in Bamboo Dock (which sits on a computer's desktop). This ever-growing library of apps includes games and tools for creating and sharing.

An interactive tablet that is instinctive to use

"Consumers are becoming significantly more expressive and creative in their everyday digital life. With the new Bamboo generation, we offer the perfect tool to personalise content and to navigate, write, draw, paint and sketch in an enjoyable way," says Rüdiger Spohrer, Vice President Marketing, Wacom Europe. "And this applies to office users wanting to add handwritten notes and scroll through documents quickly, to teenagers wanting to scrawl messages on their friends' online photos. Bamboo interactive pen tablets deliver a new experience of working with a PC or Mac. We wanted to combine the best aspects of user interfaces into one interactive pen tablet that is second nature to use. With Bamboo, inspiration and expression become one, allowing our customers to explore computer input in ways they have not yet thought possible."

Bamboo Pen & Touch

The new, effortless design of the Bamboo Pen & Touch is certainly eye-catching and sure to be a hit on anyone's desk. The black tablet is framed with striking contrast colors of black and lime and includes a bay for the wireless accessory kit that is available separately. Four customizable express keys assist with easy navigation of computers, while the pen provides precision when creating. It's the tactile connection with content through drawing, annotating, scribbling, painting and navigating that makes the Bamboo Pen & Touch so great to use. Bamboo Pen & Touch is priced at £74.99.

Bamboo Fun Pen & Touch

This is a silver tablet that makes a stylish impression and screams premium design. But underneath its luxurious, MacBook-esque exterior is a fun tablet that is instinctive and easy to use. Taking the features of the Bamboo Pen & Touch, it also comes with an outstanding software bundle: Adobe® Photoshop® Elements 8 (for the small) and 9 (for the medium) and ArtRage 3. The medium-sized tablet also comes with Corel Painter Essentials 4, which turns any computer into a digital canvas and the Bamboo pen into a multi-purpose paintbrush. The Bamboo Fun is ideal for creative work, whether retouching and editing or creating from scratch. Bamboo Fun Pen & Touch is priced at £89.99 (small) or £169.99 (medium).

Bamboo wireless accessory kit

Both Bamboo Fun Pen & Touch and Bamboo Pen & Touch tablets can now be used wirelessly to make the tablet more portable and easier to use remotely. The plug'n'play accessory kit includes a wireless dongle to connect the tablet wirelessly and simply to PCs, Macs and laptops. It is priced at £34.99.

The range is completed by Bamboo Pen (pen input only) which costs £49.99. All prices include VAT.

About Wacom

Wacom Europe GmbH is a subsidiary of Wacom Company, Ltd. (Tokyo Stock Exchange 6727). Founded in 1983, Wacom is a global company based in Japan with subsidiaries and affiliate offices around the world to support marketing and distribution in over 150 countries. Wacom′s vision to bring people and technology closer together through natural interface technologies has made it the world′s leading manufacturer of pen tablets, interactive pen displays, and digital interface solutions. The advanced technology of Wacom′s intuitive input devices has been used to create some of the most exciting digital art, films, special effects, fashion and designs around the world and provides business and home users with their leading interface technology to express their personality. Millions of customers are using its cordless, battery-free, pressure-sensitive pen technology.

The company also offers its products as OEM solutions to leading manufacturers serving incremental markets. Wacom′s interface technology, called Wacom Feel IT Technologies, is also offered as an integrated solution to strategic partners. Most Tablet PC manufacturers count on the advanced features and reliability of the brand to deliver a superior user interface experience.