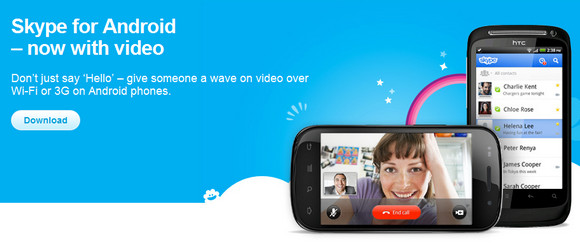 Skype have slammed down an update to their Android app, with the all-new, all-shiny v2.5  adding support for video chat on an additional 14 devices (see below), including the popular Galaxy Tab 10.1 and Motorola XOOM tablets.
The update  also lets users switch between portrait and landscape mode during video calls, and zoom in by double tapping on the screen.
The squires and squiresses at Skype also say that they've improved support for Bluetooth headsets, and also attended to a number of niggling bugs and performance issues, promising a more satisfying Android-based Skype experience.
As with their recent Mac and iOS updates, Skype have added an advertising platform for freeloaders, but those with Skype Credit, a Calling or Skype Premium subscription will be spared the beastly advertising.
Here's the list of devices now enjoying Skype support:
Samsung Galaxy Tab 10.1

HTC Nexus One

HTC Shooter

Sony Ericsson Xperia Live with Walkman

Sony Ericsson Xperia neo V

LG Optimus Black

LG Optimus 3D

LG Optimus 2x

Motorola Photon

Motorola Droid 3

Motorola Bionic

Motorola Xoom

Motorola Atrix

Acer Iconia
Skype can be downloaded here –  check out their blog for more info.