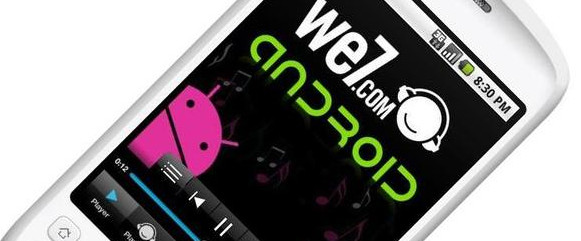 The UK-based  music streaming service We7 is ready to go head to head with Spotify and launch its  own Android app, offering a two-week trial of the full version to tempt music lovers in.
Down in the tube station
The new We7 Android app offers unlimited streaming for users on their Premium Plus subscription – that's £9.99 a month to you, squire –  and gives users the option to cache songs so that the music can play on, even when you're stuck deep underground on a stalled Northern Line tube train.

To convince users of its beauty and its desirability,We7 are letting people try out the service for free for two weeks before they start rattling the tin.
Your love takes me higher
"We love giving people access to their favourite music and enabling them to consume it, wherever and however they want it, purred Steve Purdham, we7 CEO, adding that, "the new Android app version continues to extend our mobile strategy."
Ol' Purdo/Puddsy/Puudooo (what do you reckon he was called at aschool?) didn't finish there though and had loads more to tell us:
We know that many consumers have been frustrated with mobile music apps in the past, generally, they download 'free apps' but cannot play songs without paying for a subscription.

We wanted to resolve this, that's why we've included the free trial so users can sign up and immediately play music.

Users just need to go to The Android Marketplace and download it, we're confident that they'll love it!
Searching for the young MP3 rebels
Here's a rundown of the key features:
we7 themed playlists and editorial
Create, add and save playlists on phone and sync to on-line account
Access and sync with personal on-line playlists
Browsing capability for saved songs, artist and albums
Play now, play next, play last options when cueing music
Search 'more from' artist or album currently playing
Popular songs , albums and artists displayed and available
Background mode – play music while doing something else on phone
Full online search of six million songs, albums and artists on we7 catalogue
Replay, random play and edit player queue
Haptic feedback support
Free two week trial set up from phone
Number of songs 'offlined' ie saved to phone limited only by available storage.
The app doesn't seem t be available yet, but be sure to check out their website or Android Market for updates.