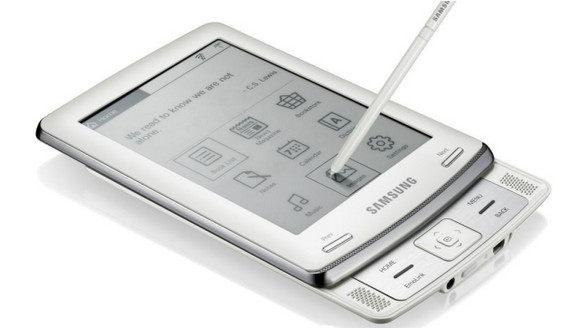 Samsung has teamed up with UK book, stationery, magazine and newspaper retailer WH Smith to promote its new S60 ebook reader.
With a clunky, slide-out design reminiscent of Nokia's 2006 N95 smartphone, the S60 packs a 6-inch, eight level greyscale screen supporting 600 x 800 pixels resolution and comes with 2GB of internal memory, expandable to 16GB via the SD memory card slot.
Features
It's a fairly pocketable number, measuring 119.5 x 171 x 16.3mm and weighing only 315g, and comes with a built in Organiser (Datebook + Notebook + Diary) and support for ePub, PDF, TXT formats, plus stereo MP3 playback and text-to-speech as well.
There's also built in wi-fi for accessing publications in the WHSmith ebook-store, and battery life is pegged at a rather average 20 hours reading time, 5 hours writing time, or 10 hours listening time.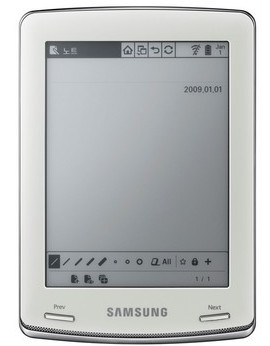 Graham Long, VP of Samsung's IT business division, turned on the spinner and enthused:
Samsung's arrival in to the eBook Reader market is significant as we are bringing unique functionality to this emerging market

The addition of Wi-Fi and accurate handwriting functionality to eBook Readers will take the user-experience to a new level and ensure eBook Readers continue to grow in popularity.
Toby Keir from WHSmith was also keen to try and get us excited:
The new Samsung eBook Reader is very impressive and we think it will prove popular with our customers. The ease of use combined with the sleek design and Wi-Fi functionality offer customers a unique product in this market and we're confident it'll be a great success with book fans.
To be honest, there's not a lot we're warming to here, but we are intrigued by the bounded electromagnetic resonance (EMR) stylus pen which lets users make notes and annotations on the 'paper-like texture protective sheet' covering the screen.
It's too expensive
Priced at a unpleasantly high £199.99 (supposedly reduced from £299.99 for a 'limited time') we can't see many people being tempted over from the Kindle eReader, which offers a slicker looking package for £90 less (or £50 less if you go for the 3G version).
In fact, WH Snith's own store is full of more tempting alternatives, including the more stylish Sony eBook Reader Pocket for £99 and the Sony eBook Reader Touch for £149.99.
If you're undaunted by the high price and  crave those old school silver Nokia looks, the S60 can be purchased from WH Smiths' website here.