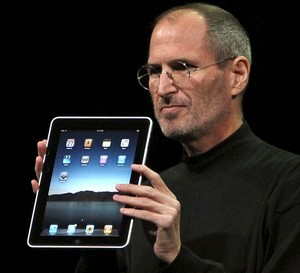 Anyone who spends time on the move knows how handy it is to be able to tether your netbook/laptop/tablet-based computing device to your phone to enjoy some internet connectivity on a bigger screen.
The iPad – a delightfully mobile device if we ever saw one – looks to be just the sort of thing that would be perfect for hooking up to your iPhone.
After all, they're made by the same people, so all the inter-connectivity and seamless interoperability has got to be just a click away, no?
Err, No.
In an exceedingly short email exchange between a Swedish fanboy and Lord Jobs, the Overlord of the Empire of Apple, the answer was laid out in terms that even a 2 year old would understand:
I'll keep it short.

I'm Jezper from Sweden, a long time Apple fan, currently about to replace the very last computer at home with a brand spanking new iMac i7. I'm also awaiting the release of the iPad. However, I have one question:

Will the wifi-only version somehow support tethering thru my iPhone?

Two devices, based on the same OS, with already built-in technology to share one data plan suggests a secondary contract could possibly be redundant.

From the look of your keynote, where the iPad sits well between my MacBook Pro and my iPhone, I was hoping the three of them could interact as seamless as possible.

All the best,
Jezper Söderlund
And the answer from Herr Jobs?
No.

Sent from my iPhone
So there you have it: yet another thing that Apple won't let you do on a device you've spent your hard earned money on.
Thankfully, there's loads of cheaper netbook alternatives that will let you do whatever you like. We'll stick to those for now.
[Via]