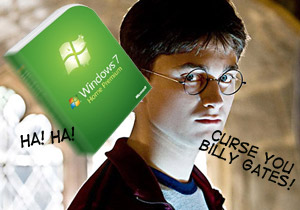 Windows 7 has grabbed Harry Potter's magic wand and shoved it right up his Hogwarts to become the biggest pre-order product of all time in the UK, according to Amazon.
The UK arm of Amazon said that the eagerly awaited Windows operating system has sold more copies in the first eight hours of its release in July than Vista did in its entire pre-order period.
Brian McBride, Amazon UK MD, stepped past an uncontrollably sobbing Potter and commented:
The launch of Windows 7 has superseded everyone's expectations, storming ahead of Harry Potter and the Deathly Hallows as the biggest grossing pre-order product of all-time at Amazon.co.uk, and demand is still going strong,.

Over the past three months, only Dan Brown's The Lost Symbol has sold more copies than Windows 7, which is an incredible achievement for a software product.
Microsoft's shiny new OS officially launches tomorrow and we'll be waiting by our letterboxes for the much needed means to banish Vista into the ether*.
(*we know this was an opportunity to insert another hilarious Harry Potter-related pun but we haven't got a clue what the films are about, so feel free to write in and add your own).