Now, here's an interesting idea for eco-warriors, the cost-conscious or hyperactive types: a squeaky foot pedal to power your laptop.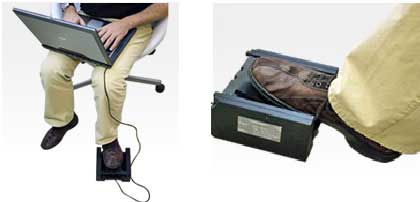 The YoGen Max is a foot operated, electromechanical portable charger which provides enough juice to keep your laptop powering along, or it can be used for charging up your machine's batteries.
The output of all that leg flapping action can be optimised to match the attached device, and there's also the option of using the built-in rechargeable AA batteries if your leg gets too knackered from the pumping action.
The pedal measures a fairly hefty 6.7″ x 7.2″ x 1.9″ when folded up (substantially bulkier than a power brick) and is capable of outputting 60-80W of power.
We love the idea of human powered gadgets, but it has to be said that the YoGen perhaps isn't the most elegant thing we've ever seen, and we suspect it may be a bit on the heavy side for campers and tourers.
However, if you're thinking of retiring to a remote cottage in the Outer Hebrides to write your magnum opus, then this could be a very handy device.
YoGen Max say that they are taking orders from resellers and distributors, but there's no news of a commercial release.
To be honest, the video looks more like a proof-of-concept job to us, with the product looking a little rough around the edges.  And very squeaky too.