According to a study last year, the humble computer mouse is set to die out in the next five years to be usurped by fancy-pants touch screens and facial recognition systems.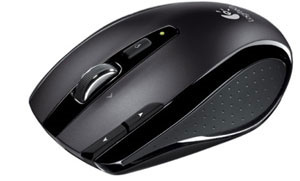 That's as maybe, but we still need one to get around our Thinkpad laptop right now, so we invested in the wireless Logitech VX Nano, a sleek black and dark grey number with natty rubberised side panels and slinky contours that feel good to the touch.
The Nano receiver
Unlike some of the hefty USB receivers that come bundled with lesser cordless mice, Logitech include a teensy weeny little thing that it so small that it barely protrudes out of the USB socket.
The idea is that because it's so small, users can fit and forget the receiver, and unless you regularly squeeze your laptop into the tightest of neoprene sleeves, you should be able to keep it permanently attached.
Alternatively, you can open up the battery compartment in the mouse and slip the diminutive dongle in its little slot for safekeeping.
The VX Nano uses a 2.4GHz wireless signal which can pass through solid objects (like desk surfaces), so you should get a fairly big range out of the VX. We wandered about 15 feet away and it was still working, although we can't think of any reason why we might want to use a mouse so far from the laptop.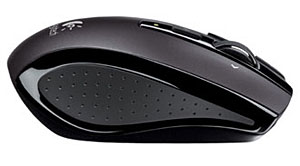 The VX is powered by 2xAAA batteries which Logitech claim will last for up to 6 months or more (we'll have to take their word on that for now).
The batteries – and top notch Duracell ones at that – came bundled in the box, along with the USB receiver, USB receiver desktop extension cable (about 5 feet long), a Windows CD, user guide and a nifty travel pouch.
Unfortunately, the user guide was one of those monster-sized, fold-out affairs written in a multitude of languages with the English bits scattered all over the shop. It's a rubbish, cheap and nasty economy, so sort it out Logitech for Gawd's sake, you cheapskates.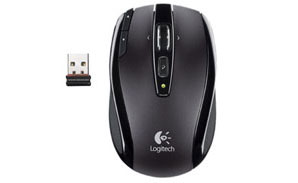 Installing the VX
Getting the mouse working was easy enough: after popping in the batteries, we just plugged the tiny USB receiver into an available USB port, pushed the power switch on the base and we were off.
Straight off the bat (without installing the included Logitech software), the page back/forward buttons worked fine, as did the left/right mouse buttons, scroll wheel and auto-scroller. Although it's geared towards right handers, we found it comfortable enough to use in both hands.
The scroll wheel came as a bit of a surprise: the traditional 'clicky' feel of earlier models has been replaced by a smooth flywheel kind of affair that, given a hefty finger jab, can send you hurtling up long pages at impressively high speeds. Wheee!
Logitech Control Centre software and installation woes
The VX Nano claims to be a far more sophisticated beast than most 'umble mice, with the Logitech Control Centre software offering all manner of customisable options.
Sadly, here's where things went seriously awry for us. Some weird error about our Thinkpad not having the latest Bluetooth drivers (it has) popped up during installation, but we elected to press on.
Once the painfully long installation process had finished, the mouse then stopped working completely so we rebooted – and then found that it still wouldn't work.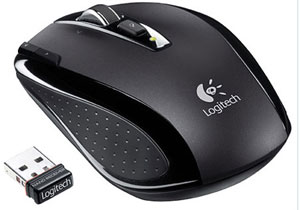 After a lengthy flap around Logitech's multi-language poster-cum-guide, we tried their Connect Utility as instructed, but this seemed more interested in having us play along to a mouse-based version of the Hokey-Cokey.
First we got a message instructing us to start flipping the mouse, keeping one button pressed while we slid power switches about and finally asking us to 'hold the left button, click the right mouse button 5 times, then release the mouse button.'
Despite our impressive hand acrobatics, the mouse stubbornly refused to work, so in desperation we uninstalled all the Logitech drivers, rebooted and were back with a working mouse again.
Truth is, after using some of the customisable features on other Logitech mice, we're probably just as happy to stick with the basics. We were only missing the horizontal scrolling feature and we don't know anyone who actually likes using it – it's always seemed a bit jerky and haphazard to us.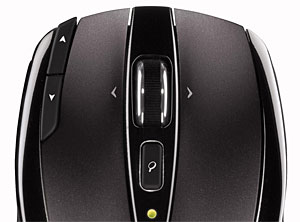 Conclusion
Despite our catastrophe with Logitech's bundled software, the VX Nano remains a very pleasant mouse to use. It's light, slim and comfortable to use with a substantial and solid feel.
The laser was extremely accurate (it's a 848 nanometer laser if that means anything to you) and although similarly spec'd mice can be found for a lot less, we reckon the pint sized receiver, great looks and all-round functionality make this just about worth the asking price of around £35.
The verdict
Looks: 84%
Ease of use: 70%
Build: 88%
Value for money: 70%
Overall: 81%
Buy it now on Amazon
.