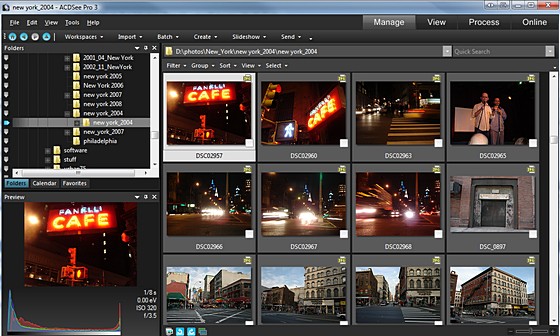 We've been using various versions of ACDSee dating back to the year dot, and our loyalty has been rewarded by a fast, stable program which has done a grand job of indexing our hefty photo collection, now numbering tens of thousands of snaps.
For some time the program has been offered in two flavours – the pricier  'Pro' version and the cheaper, consumer focused ACD See Photo Manager – with the flagship version certainly looking the part, resplendent in subdued greys and 'pro' black.
Interface
This sleek interface is made up of four, resizeable main areas. The large middle section shows folder thumbnails and selected full size images, while the left hand bar displays a navigation tree, with a larger thumbnail preview below. The right hand side is used to rank, search, caption and categorise your pictures.
It's all fairly intuitive, although with so many options onboard, things can get a little confusing.
The built-in help system offers to lend a hand, but it's pretty basic. There are a selection of files available on their website but we'd rather see these incorporated into the program itself – and preferably not delivered in PDF format.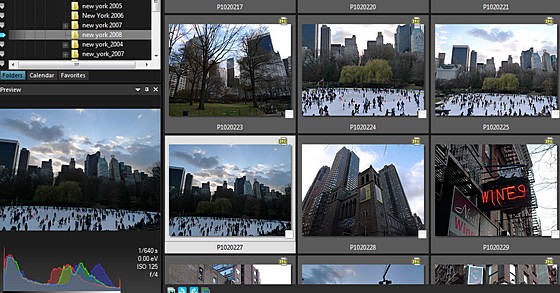 Viewing photos
Photo files can be organised and searched using folders, metadata, date, and a host of other parameters – including camera type, resolution, size  and caption – and there's support for over 100 file types, with regular updates to support the latest RAW formats.
ACDSee is very fast at displaying even large collections of images, and a nice touch is a slider letting you quickly change the size of thumbnails – something that some rival programs can take an eternity to do.
Another great feature is the ability to browse the contents of folders without having to go through the palaver of importing all the photos first – this can be a great help if you're trying to find rogue images scattered over your hard drive or just want to quickly scan images on a memory stick.
Selected images can be viewed by click advance or auto advance features, and there's also a new filmstrip window onboard, as well as the nifty Image Basket, which lets you quickly create a collection of files from multiple folders by dragging images in.
Imaging processing
It's never going to rival Photoshop but ACDSee Pro 3 provides a fairly comprehensive range of  nondestructive image editing tools to dynamically adjust images of any format, from RAW files to TIFFs and JPEG.
It's not the easiest of interfaces to get your  head around – some one-click auto options would be nice – but being able to see adjustments in real time will help busy photographers knock out quick edits and the range of tools offered should be enough for almost all everyday tasks.
There's also some really powerful automated tools built in to ACDSee Pro, including a host of  batch processing options (including batch resize, rename, develop, alter exposure etc), along with a host of options for creating slideshows.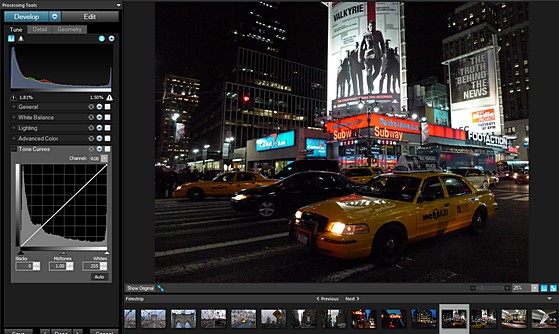 No face recognition
One feature we were disappointed to see absent was face recognition – something that even the free Picasa program from Google offers. We asked ACDSee about why they'd left it off, and this was their response:
The facial recognition feature is typically found today in applications that serve the snapshot and memory keeper audience, rather than the advanced amateur and pro photographer audience.

While this is a useful feature, and one that we are considering for future development, it is not as important to our users as it is to users of an application like Picasa. Advanced amateur and pro photographers typically look for features that allow them to further customize, control and accelerate their workflow rather than these types of 'automagic' features. Advanced amateur and professional photographers also tend to have a lower proportion than snapshot or memory keeper photographers of the types of photos for which facial recognition technology works best: face-forward photos of people.
We strongly disagree. Busy pros appreciate all the help they can get in organising and labelling large catalogues of images,  and an efficient facial recognition system could save them precious time.
In fact, we wouldn't be surprised if a few drifted away from ACDSee because of this – it's certainly something we really wish was included.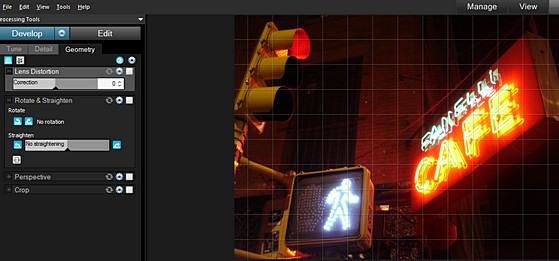 Conclusion
For handling vast collections of images, ACDSee Pro 3 remains one of the best management tools out there, offering a vast array of organisational options backed by sophisticated search functions.
The comprehensive image processing features should offer more than enough power for most photography-related editing tasks, and backed by comprehensive RAW support there's enough features on board to make this an excellent one-stop-shop for serious photographers.
However, we find the lack of face recognition a curious omission which makes the high asking price of  $169.99 harder to justify, although professional users with large collections of photos should still put ACDSee Pro 3 near the very top of their shortlist.
Highly recommended.
Ratings:
Ease of use:


Features:


Speed: 



Value for money:



Overall:

[ACDSee]