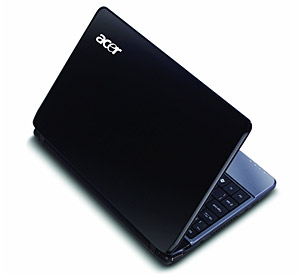 Netbooks, schnetbooks. You can't move for the ruddy things these days, and we get an inbox full of new look-a-like releases every week, but Acer's latest AS1410 offering caught our eye.
There's nothing radically different going on of course, but the beefier processor, the upgraded spec sheet and overall package makes it worthy of a closer look.
Motoring along on an Intel Celeron Processor SU2300 (1.2GHz, 1MB L2 Cache, 800MHz FSB) instead of the usual Atom CPU, the Asus sports an impressive 11.6-Inch HD 16:9 Widescreen CineCrystal LED-Backlit Display knocking out an expansive 1366x768pixels of resolution.
Running Windows 7 Home Premium 64-bit, there's an Intel Graphics Media Accelerator 4500MHD inside, plus 2GB DDR2 Dual-Channel 667MHz Memory (upgradeable to 4GB) with storage coming in the shape of 160GB 5400RPM SATA Hard Drive, plus a multi digital media card reader.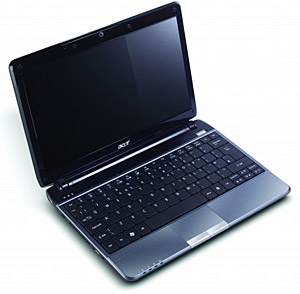 Acer have wedged in a full size keyboard and the multi-gesture touchpad supports circular motion, scrolling, pinch-action zoom and page flip.
Connectivity
There should be enough sockets and t'ings to keep you hooked up with the outside world, with the AS140 packing  802.11 a/b/g/Draft-N Wi-Fi, three USB 2.0 Ports and a HDMI Port.
For beaming your gurning mug across the world, there's an integrated webcam, with two built-in stereo speakers for your playback pleasure.
The Acer ships with a 6-Cell Li-Ion Battery (4400 mAh) which should keep you going for six hours, and the little fella is priced at $400. It's available in the US now, but should be swimming across the pond soon.
Here's the full press release, just for you:
NEW ACER AS1410 SERIES BRINGS STYLE AND AFFORDABILITY TO ULTRAPORTABLE COMPUTING

11.6-inch notebook lightens the load for mobile users who want to enjoy social networking, video and productivity applications on the go; available for just $399

SAN JOSE, Calif., Oct. 20, 2009 – Bringing affordability to the ultraportable notebook platform, Acer America today announced the new Acer Aspire AS1410 Series. These new notebooks integrate enough power for enjoying digital entertainment in a very sleek, stylish design for just $399.

"With the rising popularity of social networking, consumers are more connected than ever to the online world," said Ray Sawall, senior manager of product marketing for Acer America. "When it comes to selecting a notebook, they're increasingly concerned with size, weight and style. The AS1410 Series is small enough to be carried in a backpack or even a large purse but with enough power for spreadsheets and presentations. Aggressively priced, the AS1410 is an affordable mobile solution for checking Twitter updates, viewing YouTube videos and handling productivity applications on a plane, at school or a coffee house. Those in the market for a netbook should consider this notebook as an option, due to the step up in processing power."

Just one-inch-thin and 3.08 pounds, these systems are sleek and light, but with a full-size keyboard. The full-sized keyboard is comfortable and easy to type on, particularly for taking advantage of productivity applications. The compact size combined with a traditional keyboard comprises a convenient platform for frequent travelers and students. With the needs of mobile users in mind, the AS1410 Series is designed to suit an individual's own personal flair with three elegant color options – Diamond Black, Sapphire Blue and Ruby Red.

Powerful Performance; Petite Package

Although it's the size of a netbook, the Aspire AS1410 Series is truly a mainstream notebook with the performance to suit a variety of users. Featuring an Intel® Celeron® processor and 2GB DDR2 memory (upgradeable to 4GB), the notebooks have plenty of power for document creation, media playback and daily task management.

The systems are also outfitted with the new Windows 7 Home Premium operating system and up to a 250GB hard drive,(1) which is large enough to store a vast library of music, images and spreadsheets. Offering plenty of productive time when away from a power outlet, a 6-cell Lithium Ion battery provides up to a whopping six hours of battery life,(2) enough power to keep the PC charged on a coast to coast flight.

The systems are also primed for visual clarity. The 11.6-inch widescreen HD LED-backlit display is large enough to comfortably view videos, photos, documents and web pages. Featuring LED backlit technology, a 16:9 aspect ratio and Intel® Graphics Media Accelerator 4500MHD, the AS1410 Series delivers realistic HD pictures with crisp detail and smooth video playback.

Integrated speakers and Dolby® Sound Room® audio enhancement deliver lifelike sound for enjoying videos, movie downloads and music. A webcam and digital microphone make it fun and easy to get virtual face time with friends and family via live video streaming and video chat.

Intuitive PC Navigation, Convenient Connectivity

Affording easy, intuitive PC navigation, the new Aspire notebooks have a multi-gesture touchpad. Users can scroll, zoom in and out and quickly flip through web pages, photos, spreadsheets and more by pinching, flicking and swirling their fingers across the touchpad.

Despite the compact form factor, the new notebooks offer a wide array of ports including an integrated multi-in-one media reader to conveniently transfer files from digital devices. An HDMI port allows the systems to support any PC or TV video format via a single cable, while three USB 2.0 ports enable connection to the latest peripherals and digital devices. Advanced Intel 802.11a/b/g/Draft-N Wireless and Gigabit Ethernet LAN enable fast access to email, the web and social networks.

Pricing/Configurations/Availability
The Acer® Aspire AS1410 Series notebooks will be available for U.S. customers at leading retailers this holiday season. A sample configuration as well as specifications and pricing follow.

Acer® Aspire AS1410 Notebook PC – Prices begin at $399.99

* Intel® Celeron® Processor SU2300 (1.2GHz, 1MB L2 Cache, 800MHz FSB)
* 11.6-Inch HD Widescreen CineCrystal™ LED-Backlit Display (16.9 Aspect Ratio; 1366×768 Resolution)
* Windows 7 Home Premium 64-bit
* Intel® Graphics Media Accelerator 4500MHD
* 2GB DDR2 Dual-Channel 667MHz Memory (Upgradeable to 4GB)
* 160GB 5400RPM SATA Hard Drive(2)
* Multi-in-1 Digital Media Card Reader
* Intel® WiFi Link 1000 802.11 a/b/g/Draft-N
* Integrated Acer Crystal Eye Webcam
* Two Built-In Stereo Speakers and Dolby® Sound Room® Audio Enhancement
* Full-Size Acer FineTip Keyboard
* Multi-Gesture Touchpad Supporting Circular Motion, Scrolling, Pinch-Action Zoom and Page Flip
* Three USB 2.0 Ports
* HDMI Port
* 6-Cell Li-Ion Battery (4400 mAh), up to Six Hours Battery Life
* 3.08 Pounds
* Two-Year International Travelers Limited Warranty