Adobe has thrown a few levers, set the fork lifts rolling and sent version 8 of its popular Photoshop Elements image-editing software on its journey into willing consumers' paws.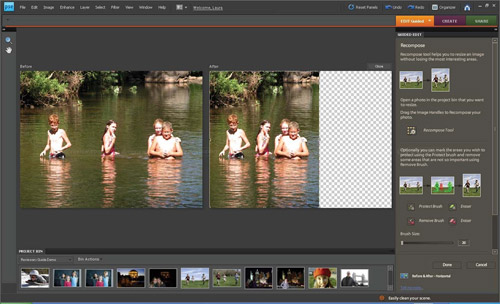 Available on PC and Mac with an interface resplendent in de rigueur dark hues, blacks and muted greys, the latest update adds  'Adobe Photomerge' Exposure, Recompose and Quick Fix previews, with automated analysis tools on hand to identify your chums in photos and video clips, and add name tags accordingly.
The Photomerge Exposure feature lets users merge multiple shots of the same scene (with and without a flash) to create a greater dynamic range, while the new Recompose function can automatically resize photos without distorting the most important parts.
The Quick Fix tool serves up a series of previews to let users visually choose the best colour, contrast and lighting adjustments, and new interactive Online Album templates let snappers put together snazzy collections of photos and videos on t'internet.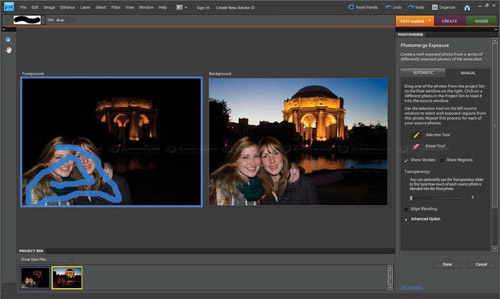 Windows users have the option to purchase the Plus version which includes 20GB of storage for automatic online backup and sharing, and enjoy regular downloads of tutorials, tips and tricks, seasonal artwork and interactive online templates.
The Mac version features Scene Cleaner for brushing away unwanted elements (such as ex-girlfriends and barfing mates) while the Smart Brush lets users easily apply effects to specific areas of a photo, with Touch-Up brushes speeding up image improving tasks like teeth whitening (handy for us Brits) or brightening Brixton skies.
Photoshop Elements 8 is available now for Windows (the Mac version is set to follow soon) and is priced at a reasonable, but still pricey, £75.82