Being British, the WireFresh crew take an unnatural, nay perversely, keen interest in all matters meteorological, and despite having constantly updating weather gizmos and widgets galore on our desktops and mobiles, we just can't get enough of a weather-related fix.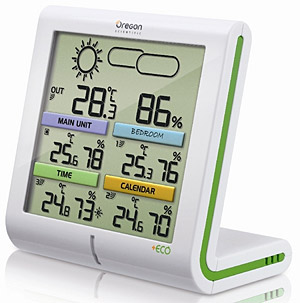 Thanks to desk-based weather stations like the Oregon Scientific Wireless Easy Weather System Pro (which we reviewed on urban75 back in 2006), we can already check out the hot cumulus action occurring in our 'hood, with an external sensor transmitting the isobar activity from outside our window.
Much as we've enjoyed using the Easy Weather System (and loudly commenting on current temperature trends to disinterested passers by), it has to be said that its two-tone plasticky looks are beginning to look displeasingly out of date.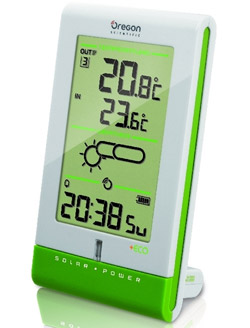 Oregon Scientific's sparkling latest '+ ECO' range of weather stations look a far more happening kind of weather rig,  and we've been gazing at them with some considerable lust of late.
Their shiny, shiny new gadgets not only look substantially snappier in their modern, curvy, coloured frames and large LCD screens, but should score higher with the lentil sandal brigade, thanks to their solar-powered energy source.
Solar powered
Although the words 'London' and 'sun' rarely go together for most of the year, Oregon Scientific insist that a mere 4 hours of sunlight would be enough to power the + ECO ClimaControl weather station for two long months.
We're not totally convinced, so have thrown the gauntlet down in the general direction of the Oregon Scientific crew and invited them to send us a review model for testing in the generally sun-challenged environment of a Brixton autumn.
+ ECO ClimaControl
The top of the range + ECO ClimaControl can monitor the temperature and humidity in up to four rooms of your home – handy for keeping an eye on the central heating or making sure no one's hogging the heat – with an internal and external sensor included with the device.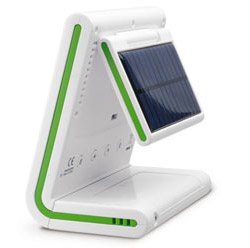 The ClimaControl package also displays a 12 or 24-hour weather forecast, humidity alert and comes with a radio-controlled clock and calendar with backlight, with a retail price of £89.99.
The £69.99  + ECO Solar Weather Station also serves up a local 12/24 hour weather forecast, radio controlled clock, calendar, alarm and a detachable solar charger, while the £49.99 the + ECO Solar Charging Radio Controlled Clock offers a calendar, single alarm and indoor and outdoor temperatures.