In a cunning move guaranteed to drum up publicity for their stores, US electronics and photography vendors Adorama, have announced  the launch of APPOS, the first annual iPhone App Awards for Photography as well as an iPhone Photography Contest.
The awards are designed to spotlight growing use of the iPhone for photography and to heap praise on the developers of outstanding photo Apps.
Judging will be done by a panel of experts including Photoshop Guru Scott Kelby, Nikon shooters Joe McNally and Moose Peterson and  Canon shooters Eric Meola and Syl Arena.
The panel gets a little bit celeb-desperate after that with (ahem) 'popular WFAN radio personalities, former football quarterback Boomer Esiason and commentator Craig Carton' making up the numbers.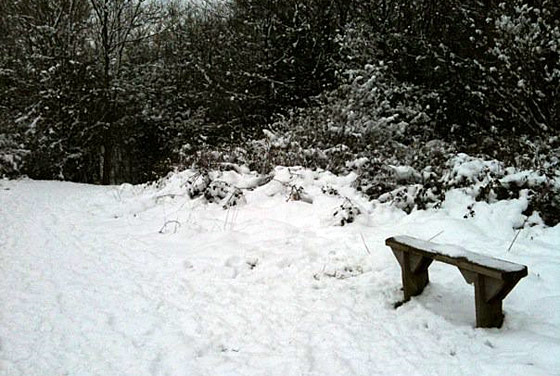 (Above: our iPhone photo from our snowy walk around the London/Surrey borders)
"We were amazed to see what our customers were accomplishing with their iPhones," whooped Ahron Schachter, Adorama spokesperson.
"They were getting photographic results that no ordinary digital camera could accomplish without the use of image editing software normally found on a desktop computer. But they were doing everything on their iPhones! We believe the Apple iPhone is changing the way people think about their photos; there's no doubt it is changing the picture-taking habits of even novice photographers," he continued, punching the air with sheer iPhone joy.
There's currently over 2,000 photography-related Apps currently residing in the Apple iTunes App Store, and although many of these are pretty awful, there's some really useful stuff in there, like the excellent free Photoshop.com editing app.
The Adorama Photo APPOS Awards will cover six categories of photo software from colourisation, masking/cropping, filters, zoom, panoramic and stop action Apps, and photo categories will include Nature, People, Humour and Creative/Special Effects.
Contest entries will be accepted until February 15, 2010, with hopefuls chasing a Grand Prize of a $1,000 Adorama Gift Certificate plus 10 Wacom tablets, fifteen Canon wireless printers, thirty $100 Adorama Gift Certificates and twenty-five $50 Apple App Stores Gift Certificates.
Find out more here: http://contest.adorama.com.
In the meantime, why not post up links to your best iPhone photos? There's at least one contributor here we know to be a bit handy with his iPhone snapping!