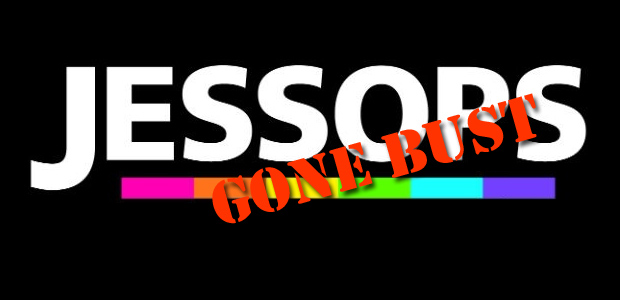 It's a bad day for photographers – and the British High Street – with the news that all 187 Jessops stores are to close for good this evening.
Two two days ago, the photographic retailer went into administration, appointing  PriceWaterhouseCoopers to take over the day-to-day running.
Any hopes that Jessops may be saved from closure has now faded with the administrators announcing that all of the stores are to immediately close – an anyone looking for bargains will be disappointed too, as there will be no  fire sale of cameras and other photography equipment.
Talking to the BBC, joint administrator said:
The stock will be collected over the coming days and returned to a central warehouse.

It will be returned to suppliers if they are entitled to it. As a consequence of the closure, Jessops is no longer able to accept returned product from customers.

This is an extremely sad day for Jessops and its employees. We will continue to ensure that employees are paid as they assist us during the closure.
Closing down all the stores will see the loss of around 1,370 jobs, and their website contains a statement for customers.
Just like with the demise of rival photographic store Jacobs last year, it looks like some customers will end up out of pocket.
The notice below sets out important information for customers.

Gift vouchers – Gift cards and vouchers are unable to be honoured, Jessops will not be trading on-line or via the store network. If you wish to register a claim in respect of an unredeemed voucher, please see information on registering claims below.

Pre-paid orders / deposits – Customers who have ordered and paid for all or part of their stock either in store or online will not receive their stock purchase. Customers who have paid using credit cards should contact their credit card company to try and seek resolution to this matter. If you are unable to obtain a refund through your credit card company and wish to register a claim, please see the information below.

Repairs – Where possible customers should liaise with the repair agent to arrange return of their asset and third party repair agents have been notified about this. If you do not know which repair agent has possession of your asset, we have requested the repair agents to contact customers directly as well.

Please note that the estimate of the costs of repair will need to be agreed with the repair agents directly, and there is no guarantee that previously agreed estimate costs will be honoured by the repair agents.

Manufacturer warranties – Our current understanding is that manufacturers will continue to honour the warranties sold through the Jessops stores.

Jessop Care Plan – This is a product provided by Jessops' partner Domestic and General. We understand that Domestic and General will continue to honour these care plans. Please contact Domestic and General on 08444 810 500 with any queries.

Academy courses – Unfortunately customers who have pre paid for academy courses will not receive a refund and these courses will not take place following the store closures. Customers who have paid using credit cards should contact their credit card company to try and seek resolution to this matter. If you are unable to obtain a refund through your credit card company and wish to register a claim, please see the information below.

Photo / photo product orders – Unfortunately we are unable to guarantee the return of photo orders that have not been collected in store by the end of trading on Friday 11 January. We have asked the store managers where possible to contact customers to arrange collection of these as soon as possible. For uncollected photos we will ask for these to be disposed of as confidential information.

Repairs in store on closure – Store Managers have been requested to contact customers directly if repairs have been returned to the shops, this will be done post closure and collection arranged with the manager. Please do not attend the store unless advised by the manager as access will otherwise not be possible.

Registering a claim. If you are owed money by Jessops (e.g. due to vouchers not honoured, deposits, returns, pre-paid courses etc) you can register an unsecured creditor claim with the administrators using the form on the PwC website (http://www.pwc.co.uk/jessops). Please note, there is no guarantee that there will be any payment to unsecured creditors of the company. If there is a dividend paid, this will be in many months time and is likely to be only a small proportion of the claimed amount.

 Other information online: http://www.pwc.co.uk/jessops

 Please contact The Jessop Group Limited helpline with any other queries on 0113 289 4422.

 The helpline is open from 8.30am to 6pm Monday to Friday