Amazon has bought up the DVD and online movie rental business, LoveFilm.
In a slightly complicated turn of events, LoveFilm first bought Amazon's UK and German DVD rental business back in 2008 in a deal that saw Amazon becoming the largest shareholder of LoveFilm.
Now Amazon has decided to buy up the remaining shares and take full ownership of the company, with an eye firmly on the growing digital downloads market.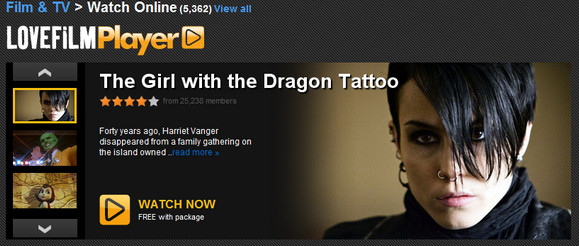 "LoveFilm has been innovating on behalf of movie rental customers across Europe for many years and with the advent of the LoveFilm player, they are further delighting customers by streaming digital movies for their immediate enjoyment," purred an awestruck Greg Greeley, Amazon's Vice President of European Retail.
"LoveFilm and Amazon have enjoyed a strong working relationship since LoveFilm acquired Amazon Europe's DVD rental business in 2008, and we look forward to a productive and innovative future," he added.
Feeling the love
There was more delighted squealing in store, this time from Simon Calver, Chief Executive of LoveFilm International, who commented:
The deal is a winner for the members who love LoveFilm because of its value, choice, convenience and innovation in home entertainment.

With Amazon's unequivocal support we can significantly enhance our members experience across Europe.
The buy-out didn't come cheap though, with Amazon needing to shell out a rumoured £200m to buy up the remaining 58 per cent of shares.
[Via]