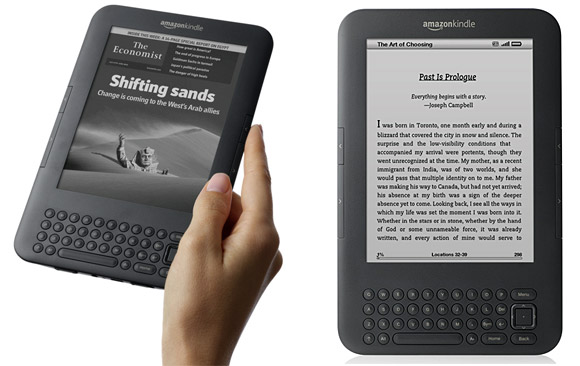 Amazon has released details of their ten biggest selling items over the Christmas period, with their Kindle eBook reader proving to be the season's top seller.
27 items bought every second
Amazon said that during the peak of the festive spending frenzy, 27 items were being ordered every second, with a staggering 2.3 million items bought on the busiest day of the lot, Monday 6 December.
"This was the first Christmas that Kindle and Kindle 3G have been available from Amazon.co.uk and the demand has been exceptional," purred Brian McBride, Managing Director of Amazon.co.uk.
"At only £109, Kindle has been on the top of Christmas Wish Lists all over the country this year and we expect to see many people visiting the Kindle Store over the days that follow Christmas to take advantage of the massive selection of low-price Kindle Books available," he added, as the festive cash tills rung around his office.
Here's the full top ten:
1.Kindle (3G + Wi-Fi and Wi-Fi only)
2.Toy Story 3
3.Call of Duty: Black Ops
4.Progress – Take That
5.Inception
6.Jamie's 30-Minute Meals – Jamie Oliver
7.Now That's What I Call Music! 77
8.Eclipse
9.Downton Abbey Series 1
10.Just Dance 2 (Wii)
[Via]