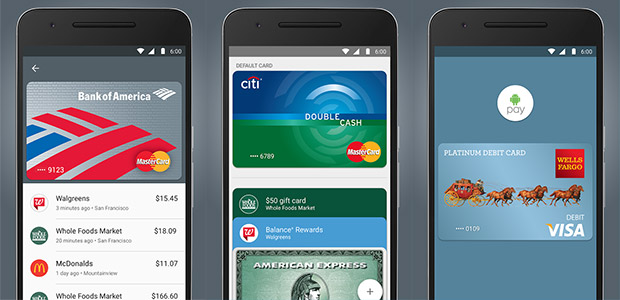 Google has launched its contactless mobile service Android Pay in the UK today, which lets customers pay for goods wherever contactless payments are accepted, including London's transport network and the Tube.
The service is supported by Mastercard and Visa, and the Bank of Scotland, First Direct, Halifax, HSBC, Lloyds Bank, M&S Bank, MBNA, and Nationwide Building Society have all signed up.
Nae Barclays
Notably absent are Santander and Barclays. We got in touch with Barclays and they told us that, "at present we have no plans to have Android Pay; however we're releasing Contactless Mobile"
"Once this is released you'll be able to use your Android device to make contactless payments," they added. We asked them when this service will appear and got this reply:
I don't have a time-frame to offer you but it will be released shortly. Please keep a look out for an app update.
£30 limit
Payments made via the app will be limited to the current contactless limit of £30, but Google is also supporting other Android apps like Deliveroo and Yplan to offer purchases within apps.
Google is also launching an Android Pay Day, which will include offers from retailers like Starbucks and Deliveroo.
Android Pay is available for devices running Android 4.4 (Kit Kat) and above with an NFC chip, and you can download Android Pay from the Play Store.