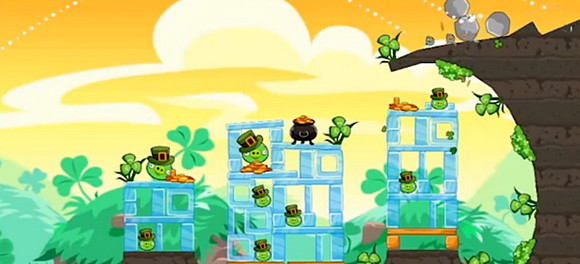 Stuffed with every Irish stereotype imaginable,  the immensely popular mobile game Angry Birds Seasons has got a timely St. Patricks Day update.
Begorrah, top of the morning, to be sure, etc etc
Rovio Mobile have said that the St Patrick's day update for Angry Birds Seasons will be arriving in the next few days, and is set to include more hidden golden eggs, leprechaun pigs and 4-leaf clovers.
Accompanied by the sort of ghastly, cod-Irish fiddly-diddly music that's likely to send the insufferable Michael Flatley Riverdancing into view while driving gamers literally insane, the update packs all the usual features of the game.
But with extra Oirishness.
[ iTunes]
Aural salvation here
If listening to that soundtrack has done unpleasant things to your ears, may we recommend playing a welcome dose of Thin Lizzy instead. It made us feel much better.