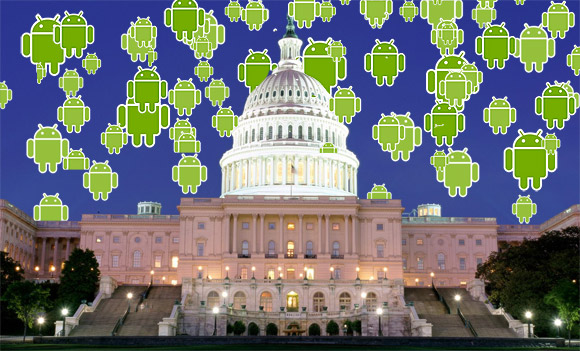 We posted earlier today about how Android has taken over the UK smartphone market, and new figures reveal that it's a familiar story across the pond, with Google's mobile OS taking over from BlackBerry as the top US smartphone platform.
Android soars
Researchers comScore found that Android's market share rose dramatically from 23.5 per cent in October 2010 up to 31.2 per cent in January 2011, swiftly elbowing BlackBerry (RIM) off the top spot during the three month average period ending in January, 2011.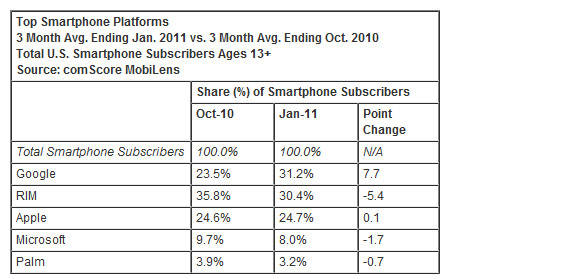 BlackBerry's market share slumped from 35.8 per cent in October 2010 down to 30.4 per cent in January 2011, while Apple's iOS could only muster the tiniest spurt of growth, increasing its market share by just 0.3 per cent, from 24.6 per cent to 24.7 per cent.
Microsoft and Palm remain in the 'going down' elevators, managing just 8.0 per cent and 3.2 per cent market shares, respectively, at the end of January, 2011.
Samsung dominates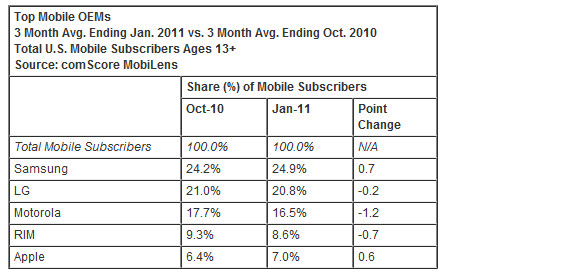 When it comes to mobile manufacturers, Samsung ranked as the top OEM, bagging 24.9 per cent of U.S. mobile subscribers, up 0.7 percentage points from the three month period ending in October.
In second place was LG with a 20.8 per cent share, followed by Motorola (16.5 per cent), RIM (8.6 per cent) and Apple (7.0 per cent).
[comScore]