I tend to paddle rather than swim in the sea of networking so this post will just cover the couple of things I do regularly, ie using Twitter to alert the public to the latest doings of my cat and messing about on Facebook, the monster which has replaced e-mail and other 'traditional' things we used to do on the internet to a great degree.
Facebook
The company is worth billions but unaccountably there's no iPad app designed by them at the time of writing. Of course you can always use their (excellent) iPhone app, but that's rather pixelly when it translates to the iPad's bigger screen, or just use a web browser.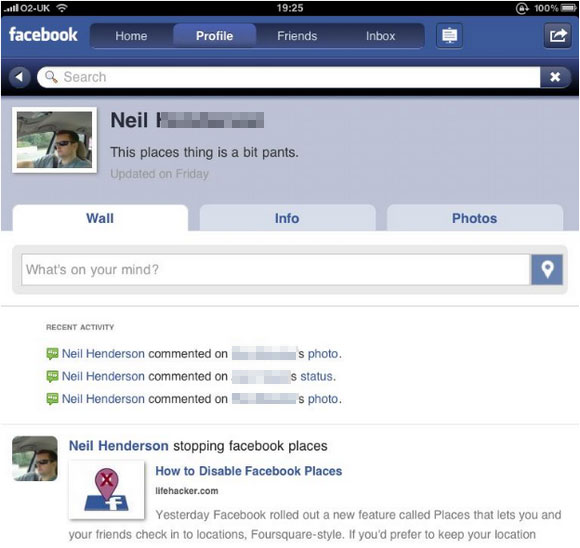 But there is a paid for alternative, which I reckon will serve fine until Mark Zuckerberg and the Palo Alto minions get around to producing one of their own; it's called Friendly and it retails off the store for 59p.
The screens (above) are much easier to use than messing about with the web page but there's a lot of functionality missing from the site proper, most notably the ability to post pictures and there's no support for the new 'Places' application, but then again you may find that something of a relief. It's all very simple and as friendly as its name suggests.
Twitter
Twitter is now essential in my business – it was the reason why I bought an iPhone – and the service has had an interesting evolution on the iPad since the device was launched earlier this year.
The first app available for it was Tweetdeck, which I like on the PC and sometimes use rather than bother with the website itself – because it can silently run under other things and run new tweets as a little window in the top right corner.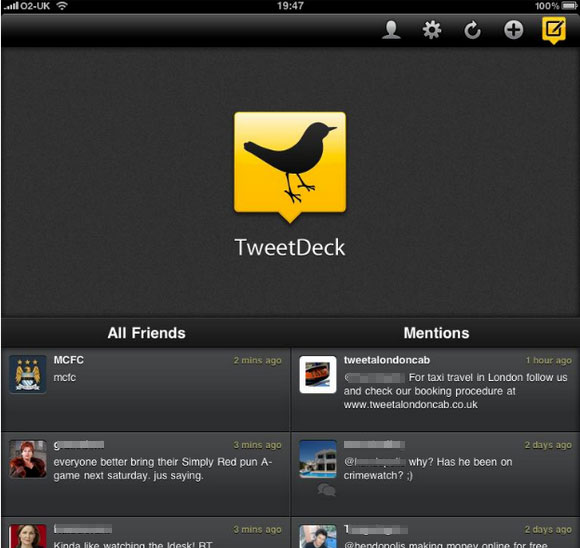 But of course we don't have multi tasking on the iPad yet, so it loses that advantage when put up against other iPad Twitter apps.
The irritating habit of booting and then immediately asking you to set up an account so it can sync your settings across platforms has been abandoned in the iPad application, and it handles lists quite well. I now follow nearly two hundred journalists via Twitter so list management is essential if an app is to be useful.
The only negative thing I can think of to say about it is that it crashes on my machine a lot. It doesn't take down the whole system, but I often find myself looking at the desktop rather than tweets. Sort it out Tweetdeck. It's free, by the way.
Twitterific is by contrast not very terrific and you pay £3 for it. It can't manage lists and seems to lack all the bells and whistles that it's competitors boast. So my advice is not to bother.
Last and not least there's the recently launched free 'official' Twitter app and I think it sets the bar very high for other efforts.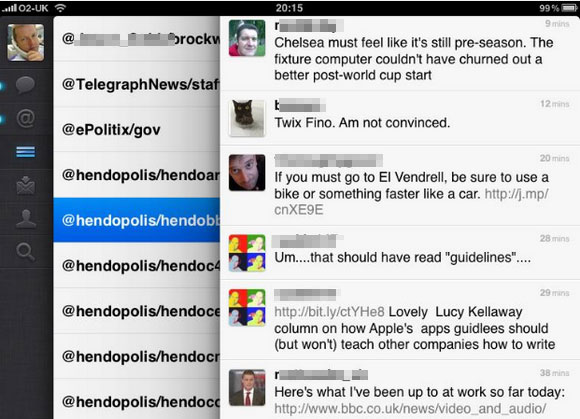 One challenge for apps is how to handle the associated web and picture content that so many of us post with our tweets, and this app does that by opening some screen territory to the right of your list and displaying it.
Then when you've finished looking at it you simply swipe it off the screen with your finger and get on with looking at other tweets. Neat.
Visually it's very straightforward and appealing, and it does that list management thing very smoothly indeed; in fact it's less of a hassle than Tweetdeck's function, and there's a sense the app is well integrated with the original Twitter feed.
New tweets you're writing appear at the top in an appealing notebook format and attaching pictures is as easy as you'd expect. It has an onboard URL shrinker for those long web addresses that don't fit in 140 characters, and all in all it's very impressive.
Other apps
There are lots of other apps that do tweeting, and there's also the Flipboard app I mentioned in a previous post which is a marvellous way of looking at Facebook and Twitter content.
There's also that Foursquare thing that demands you 'check in' when you go the pub (utterly ludicrous) but there are some things missing from the iPad's social networking abilities.
I'd like a Blogger app (Google are you listening?) and while they're at it I'd like to see Picasa on the ipad and the Phone; not likely to happen in the near future one suspects.
[hendo is a BBC journalist, and you can read his excellent blog here]