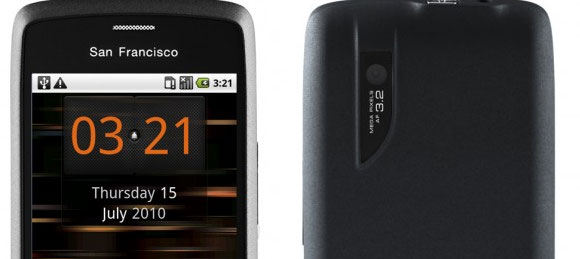 Aimed straight at the budget end of the market, Orange UK has announced the curiously monikered San Francisco, which is the company's first own-branded Android phone.
Costing a mere £99 on Orange's "Dolphin" pay-as-you-go plan, the 'Frisco serves up a 3.2-megapixel camera, capacitive touchscreen and Android 2.1 Eclair.
Big screen
The screen is way better than you might expect at this price point, with the handset offering a rather sumptuous 800 x 480 pixels  OLED number.
Connectivity boxes are also ticked off with WiFi, Bluetooth 2.1+EDR and GPS onboard, along with 3G+ and an FM radio.
Storage
The storage cupboards are a little bare inside – there's just 150MB of internal memory-  but at least there's a 2GB microSD card  included, and you can upgrade the card right up to 32GB.
The Frisco can disco in your pocket with its slender 116 x 56.5 x 11.8mm dimensions, it weighs 130g, and offers 4hrs talktime or nine days standby.
Full specification list:
Talk Time: 4 hours
Standby Time: 9 days
Weight: 130g
Dimensions: 116 x 56.5 x 11.8
Camera Features: 3 megapixel
Connectivity: WiFi / Bluetooth / USB / SatNav
Music: MP3 / FM Radio
Network Band: Tri band
Video: Messaging
Memory: 150 MB internal / Up to 32gb Micro SD Card
Email: POP3 / IMAP4
Data Speed: 3G +
Operating System: Android
Version: Eclair v2.1
Other: Orange WiFi, Your Account
Applications and Features: Orange Maps, Orange Messenger by Windows Live, Orange App Store, Email, Orange Wednesdays
[Via]