Apple has announced exactly how much your wallet will be drained if you decide to purchase one of their shiny new iPhone 4 handsets in the UK without signing up for a contract.
24th June is SIM free nirvana
The SIM-free iPhone 4 has just appeared on Apple's website, and can be pre-ordered today with delivery promised for the 24th June.
For those people who can't bear the prospect of signing on the line with a mobile operator, the latest iPhone 4 will set them back a hefty £499 for the 16GB version and £599 for the 32GB version.
SIM update needed
Anyone hoping to simply flick the SIM out of their old phone and bosh it into their shiny new iPhone needs to think again, as the handset uses a micro SIM rather than a standard one – you they'll need to invest in a new SIM card as well, or get stuck into a bit of DIY.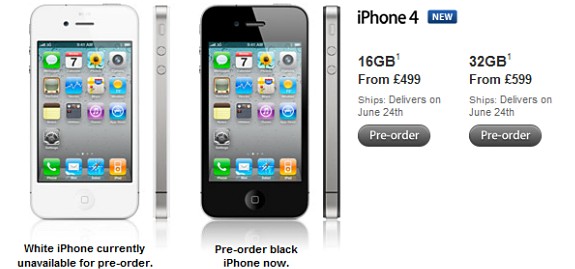 Any colour so long as it's black
Curiously, Apple has said that anyone wanting the white version of the iPhone will have to jog on, with only the black version available for pre-order in the UK and the US for the moment.
We're still waiting for the other UK mobile operators to wheel out their contract prices, although a whoopsie at Vodafone seems to have made their price tariffs available earlier than perhaps they would have liked.