Perhaps mindful of the flak that Apple has taken for its sometimes arbitrary and moralistic app approval process, Jobs has weighed in to say their AppStore is, "the most vibrant app store on the planet," with around "15,000 submissions a week in up to 30 different languages."
"Guess what?," he asked rhetorically: "95% of all apps submitted are approved within 7 days," adding:
What about the ones we don't approve? Well why is that? What are the reasons?

1: the app doesn't do what you said it would.

2: It uses private APIs… and if they change the app will break… and the third reason? They crash."
We're not so sure that the 5,000 adult-themed apps rejected over a single weekend were found to all be 'crashing,' but Jobs insisted that, "if you were in our shoes, you'd be rejecting for the same reasons."
We don't think we would Stevie boy, but whatever…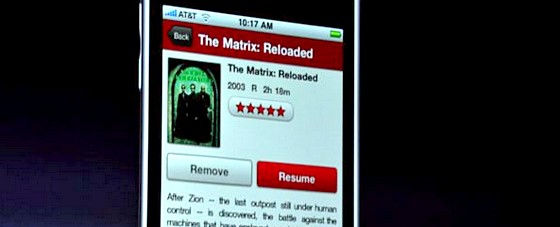 Netflix
Reed Hastings from online movie rental service Netflix has shuffled on stage to announce that Netflix for the iPad has proved a hefty success –  the #1 most downloaded in entertainment apps – and that the service will be coming to the iPhone coming this summer, for free.
We're sure that means a lot to US customers, but it's not really make us move over here in the UK where Netflix is unheard of.
Farmville and Guitar Hero

We think we'd find sitting in a field and counting the grass more interesting than playing Farmville, but for those of you who can't get enough farmyard thrills, a version is going to be released for the  iPhone, solving that awkward no Flash support problem.
Guitar Hero is also coming out on the iPhone for $2.99, with the introduction of a new strumming mechanic, apparenry making gameplay "perfect."