Declared "really hot," by Steve Jobs speaking at WWDC10, the new iPhone apparently comes with no less than 100 new features, the most obvious one being the all new design.
As expected, it looks the same as the models that were leaked all over the web sporting a natty industrial redesign which Steve Jobs is positively raving about:
You gotta see this in person. This is beyond the doubt, the most precise thing, and one of the most beautiful we've ever made. Glass on the front and back, and steel around the sides. It's like a beautiful old Leica camera.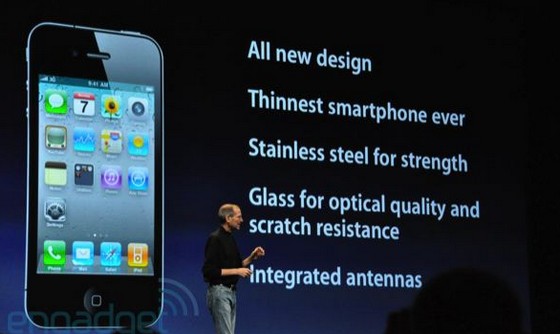 Apparently 24% thinner than the iPhone 3GS and "the thinnest smartphone on the planet," the iPhone 4 sure looks lovely and cunningly has the antenna situated in a band around the handset.
The display has been ramped up to a sensational 960 x 640 display boasting 800:1 contrast ratio – making it four times  better than the 3GS, "quite a bit better than OLED," and offering 78% of the pixels on iPad.
The 3.5″ display features Apple's new 'Retina Display," which apparently increases the pixel density by four times, dramatically improving onscreen readability.
Engadget has some of the side-by-side shots with a 3Gs and the iPhone 4 screen certainly looks more detailed, albeit a fair bit darker.
Ooops
Oh dear, there's been a hiccup in Apple's usually flawless presentation, with the wi-fi failing to work and an error message coming up onscreen. We could imagine someone offstage being presented with their p45 right now. Or worse.
Awesome dude
The glitch has been fixed and everything's become awesome, with Jobs enthusing about the new display:
It makes it so your apps run automatically on this, but it renders your text and controls in the higher resolution. Your apps look even better, but if you do a little bit of work, then they will look stunning. So we suggest that you do that. So that is the Retina Display. Awesome text, awesome images, and awesome video. We think this will set the standard, and no one is going to come close.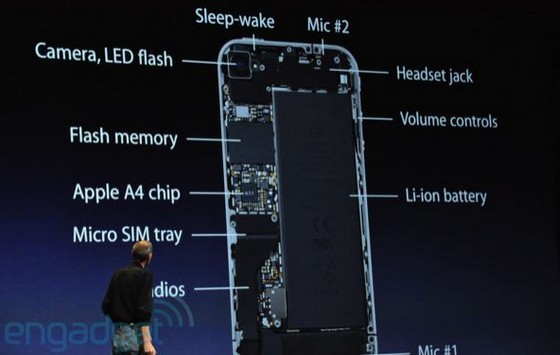 New processor
The new iPhone 4 is powered by Apple's own A4 chip, designed by their own team, offering a vastly improved battery life of 7 hours of 3G talk, 6 hours of 3G browsing, 10 hours of wi-fii browsing, 10 hours of video, 40 hours of music, and 300 hours of standby. Wow.
Other specs include dual mics, 802.11n WiFi, GPS, compass, accelerometer, Quad band HSDPA, 7.2Mbps… and a three axis gyroscope which can be tied with the  accelerometer and compass for six axis gaming.
Upgraded camera, HD video and iMovie for iPhone
The camera – always a bit of a low point on the earlier iPhones – has been beefed up to a 5MP number with a backside illuminated sensor, 5x digital zoom, tap to focus and a long overdue LED flash.
There's also going to be HD video recording 720p at 30fps with an LED light, in-phone editing and iMovie for iPhone, packing transitions, titles and the ability to add photos, gelocation info and five themes.
The iMovie for iPhone app will retail for $4.99 – "if we approve it" joshed Mr Jobs.
FaceTime
There's also video calling, under the name of 'Face Time.' Which is nice if you like that kind of thing. The ability to flip cameras from the front to the rear mid-call is kind of neat. Oh, and it's wi-fi only which is a bit of a bummer.
"FaceTime is going to change the way we communicate forever," says Mr Joswiak. We don't think so, mate.
iPhone OS 4 – now called iOS4 – with added Bing!
The newly named OS sees folder support, a unified inbox (about ruddy time), and the long awaited multi tasking support
Amazingly, Microsoft's Bing has now appeared as a search engine choice on the new iPhone, with Jobs commenting, "Microsoft has done a great job on this. Check it out, it's kinda cool."
The updated OS will be offered as a free upgrade on June 21st, although not all the features will work in 3G models.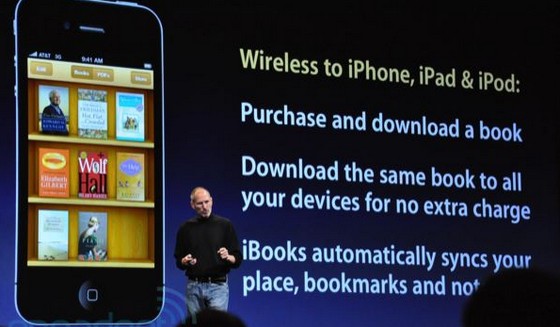 iBookstore comes to the iPhone
The same bookshelf as seen on the iPad is now coming to the iPhone – with PDF support. Here's how it works:
We'll have it on the iPhone, the iPad, and the iPod touch. What can we do with these together? First, you can purchase and download a book. It will download wirelessly. You can download the same book to all your devices at no extra charge. Buy it on your iPad, download to your iPhone. And iBooks will automatically and wirelessly sync your current place, all your bookmarks, and all your notes."
iAds
We can't get too excited about a massive corporate like Apple bragging about their vast wealth, "over 150 million accounts with credit cards," or the fact that monster firms like Nissan, Citi, Unilever, AT&T, Chanel, GE, Liberty Mutual, State Farm, Geico, Campbells, Sears, JC Penny, Target, Best Buy, Direct TV, TBS, and Disney have all signed up to their new iAds scheme, but I guess it's important news for some.
In a piece co-branded marketing synery, Nissan have knocked out a high tech advert for their new Leaf electric car – and the only way to try and win one is to buy an iPhone.
That's all well and good, but we'd rather just get our hands on that juicy looking new iPhone and play with its funky new features!
Pricing and availability

The iPhone 4 will be available in white and black, with US pricing via AT&T set at $199 for 16GB, $299 for 32GB, with the phones going on sale on June 24th in the US, France, Germany, Japan and the UK, pre-orders starting on June 15th, with 18 more following in July.
One last thing:
Steve Jobs: "We're not just a tech company. Apple is more than that. It's tech and humanity."
[insert your own reaction to that here]
[Pics:  Engadget]