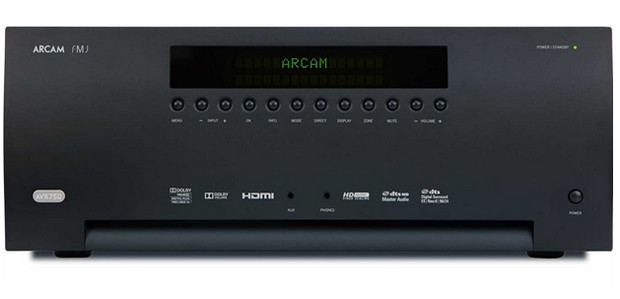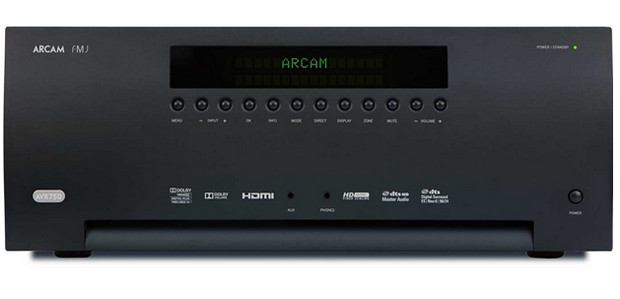 High-end audio specialists Arcam have taken the wraps off their new AVR750 audiophile receiver, a beast of a thing which they've billed as both their highest performing receiver to date and their best ever 'stereo' amplifier.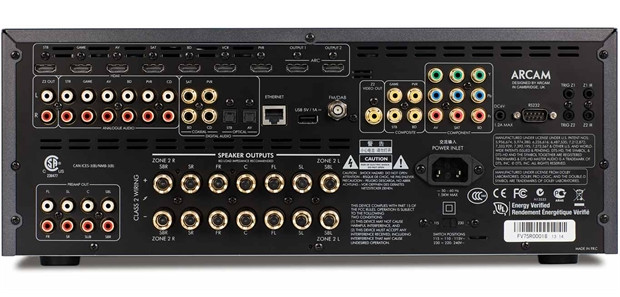 Able to deal with high resolution surround sound or two-channel music, the AVR750 serves up oodles of power for high performance cinema installations, with built-in support for 4K "Ultra HD" and 3D video.
Both standard and high definition sources can be scaled to any resolution where required so this baby should be able to handle anything you care to throw at it.
An internal tuner offers FM / DAB / DAB+radio listening, with access to internet radio & music streaming provided via a network connection.
The USB port supports memory devices as well as digital audio from your iPod / iPhone / iPad, and the with control of the AVR750 is possible via Ethernet, it can integrate with whole house control systems.
Naturally, all this audio fabness doesn't come cheap, with the amp retailing for a hefty £4000 GBP / $6000 USD.
Here's the full press releases for a full on fact feast or check out their website for more.:
ARCAM of Cambridge UK announce the FMJ AVR750 High-End 4K AV Receiver – £4000.00 GBP / $6000 USD

– World-Class Video, World-Beating Sound!

Home Cinema rooms globally are littered with the corpses of music lovers, who've given up because their music sounds so horiible on most AV kit. Arcam have always been an honourable exception to this trend and with the AVR750, they reset the bar for High-End AV Receivers once again. Less feature frippery and more performance in every single area. No competitor anywhere, delivers better sound on music or movies.

– Arcam's highest performing receiver to date

– Arcam's best ever 'stereo' amplifier

– 4K (UHD) video compatible including HD ULTRA upscaling

– 7 HDMI inputs, 2 HDMI outputs, ARC compatible

– Auto setup with room correction

– Class G power amplification

– On board regulated power supply for rSeries digital input components

– Ethernet, RS232 and IR control for Custom Install

– Free iOS AV control app & Streaming control apps

– Full internet radio & music streaming

– Airplay, Bluetooth and USB input options

– Backlit learning remote control supplied

– Clean elegant design

– Massive EM Shielded and Anti-Vibration Full Metal Jacket construction

As one of the very few audio specialists in the world to design AV receivers, Arcam of Cambridge has developed a reputation for balancing a finely honed technical specification with world class audio performance. The AVR750 is, quite simply, the highest performing AV receiver Arcam has ever made.

Offering a level of sound quality that is far above competing receivers, the AVR750 is an audiophile product by any measure. Equally at home with high resolution surround sound or two-channel music, the AVR750 delivers stunning realism with everything from heavy-weight blockbusters to your favourite concert video.

The power amplifiers within the AVR750 are perhaps the finest ever seen within any AV receiver. Power delivery is both clean and tight against a background noise level that is astoundingly low. Listeners can expect to be enthralled from the opening sequence to the final encore!

The AVR750's natural habitat is within high performance cinema installations. It is comfortable driving any loudspeaker to extremely high levels and delivers a sonic detail and emotional connection that quickly takes listeners to the very heart of the movie or music.

4K Ultra HD and 3D 

Both video and audio stages are designed to embrace both current and upcoming technologies. 4K Ultra HD and 3D video capability are built in, while both standard and high definition sources can be scaled to any resolution where required.

Internet Radio – Local Music Streaming – iPod/Pad/Phone

An internal tuner provides a fully integrated FM / DAB / DAB+ (in appropriate markets) radio solution. Worldwide access to radio stations is provided through the network connection, which also interfaces to uPnP audio servers. The USB port supports memory devices as well as digital audio from your iPod®/iPhone®/iPad®.

Bluetooth / USB Computer Input / Airplay

All available and more, using Arcam rSeries modules. See below for more info

Custom Install Ready

Control of the AVR750 is possible via Ethernet, enabling it to be fully integrated with whole house control systems. RS232, 12V triggers and standard IR control are also included.

Free Arcam Apps

Songbook (iOS) to control Internet Radio and uPnP streming from PC/MAC/NAS Drives

ArcamRemote (iOS iPad only) for full control and setup of the AVR750

Musical above all.

We at Arcam don't build equipment to ream your ears out, sear your eyes and impress on one quick audition. Arcam kit is made to be musical and enjoyable over years and years of listening and watching. Many Hi-Fi and most AV products don't play music or movie sound in any enjoyable fashion. Arcam kit gets better, more involving and more musical the longer you listen.

Arcam of Cambridge UK

Pioneers of the modern Hi-Fi industry and one of the world's most prestigious audio engineering companies, with over forty years of experience building both affordable and high-end Hi-Fi and Home Cinema equipment. Arcam design all their world-class products in Cambridge UK.

Tech Specs

Continuous power output, per channel, 8Ω/4Ω

2 channels driven, 20Hz-20kHz, <0.02% THD – 120W/200W

2 channels driven, 1kHz, 0.2% THD – 130W/210W

7 channels driven, 1kHz, 0.2% THD – 100W

Residual noise & hum (A-wtd) – <0.15mV

Audio Performance (Stereo line inputs)

Signal/noise ratio (A-wtd, stereo direct) – 110dB

Frequency response – 20Hz—20kHz ± 0.1dB

Video Inputs

HDMI – x7, Component – x3, Composite – x4

Video Outputs

HDMI – x2 (ARC Compatible), Z2 – x1 (Composite)

Audio Inputs

HDMI – x7, Coax SPDIF – x4, Toslink – x2, RCA Phono – x6, USB input, Ethernet Client, Internet Radio, ARC (from display)

Audio Outputs

7.1 Pre-amp ouput – 6x RCA Phono

Zone 2 output – RCA Phono

Radio Tuner 

FM / DAB / DAB+ (in appropriate markets)

Supported Surround Modes Include 

Dolby TrueHD, Dolby Digital Plus, Dolby Digital EX, Dolby Digital 5.1, Dolby Pro Logic IIx

DTS-HD Master Audio, DTS-ES 6.1 Discrete, DTS-ES 6.1 Matrix, DTS 5.1

Modular Digital Input System

The best place for DAC and Amp sound quality is with the DAC shielded and away from critical circuits. Arcam's new rSystem does this by design and provides unparalleled flexibility

– Future-proof concept allows for any future streaming system / codec etc

– Amp is designed to power and integrate with Arcam's rSeries of DACs

– Ultra High-quality 6v power supply for up to 2 x rSeries DACs

– Performance of rSeries DACs improved by new regulated power supply

– Not everyone needs every function, so If you don't need it, don't pay for it

A range of Digital input modules

– Asynchronous USB = rPAC

– Additional SPDIF Optical and Co-Ax = rLink

– 6 Extra inputs USB, SPDIF Optical and Co-Ax = irDAC

– Bluetooth Streaming – rBlink

– Airplay = airDAC (due later this year)

– Any new protocol – rFuture

General

Power consumption (max) – 1.5kW

Power consumption (standby) – <0.5W

Dimensions & Weights 

W x D (inc. speaker terminals) x H (inc. feet) – 433 x 425 x 171mm

Weight (net) – 16.7kg

Weight (packed) – 20.0kg