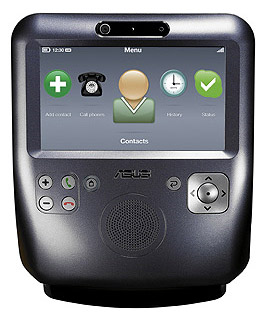 Although videophones haven't really caught on – we've never been excited at the prospect of letting people see us in our full, post-hangover, mid-morning glory – we have to say that Asus's dinky new standalone devices have almost created a moistening in our 'want' glands.
Looking purdy as a picture with their curved lines and natty design, the Skype-certified SV1T videophone packs WiFi (or Ethernet), VGA webcam, mic, a built in speaker and a hefty 7-inch 800×480 pixel touchscreen to cater for all your video chatting needs in a standalone package.
Designed to let video Skypers get chatting for free without the need to boot up their laptops, Asus are hoping that small businesses will be lured in by its video conferencing feature.
Manrique Brenes, Skype's director of business development and product management, was happy to get all synergistic with his Asus chums:
Skype goes beyond traditional voice calling and brings people closer through rich, real-time video communication. The device's touchscreen makes video calling an even easier and more accessible way for people to communicate. It offers the benefits of Skype video calling and exceptional audio quality—allowing friends, families, and small businesses to share their worlds face-to-face without being tied to a computer.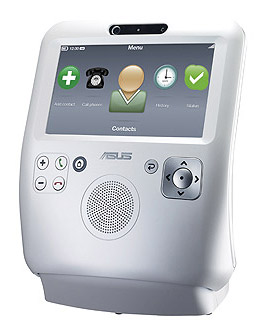 Asus assure us that the videophone is easy-peasy to set up, with the icon-driven touchscreen letting users snappily key in info, search for contacts and input contact info.
There's also a standard mini-jack headset and microphone onboard for those late night, potentially saucy videcalls.
Much as we like this little fella, pricing is crucial if its to take a hold in the market.
The previous version retailed for a decidely upmarket $300. We think they're going to halve that cost to make it an attractive purchase for many.