Frustrated with trying to navigate the screechy old-school tuning dial on our antique bedroom analogue clock radio, we thought we'd splash out and move into the DAB age with the PURE Digital Siesta.
Served up in a curved triangular form factor, the Siesta offers a full range of alarms, plus DAB and FM RDS radios.
Pure hope that the radio will help you sleep a little bit sounder knowing that you're doing your little bit for the planet with the Siesta burning up just 1W power consumption when in standby – ten times less than the average energy guzzling portable.
The radio's packaging is also pleasingly minimal, with much use of good ol' cardboard.
Setting up the unit was easy enough: plug in, press standby, select energy saving mode on/off and then let the radio autotune to all available DAB stations (an operation that took less than a minute).
When activated, the energy saving mode only grabs intellitext message info when the radio is turned on.
Construction
The build of the radio seems pretty solid, although the super-shiny buttons felt a little plasticky to our touch.
The backlit blue LCD screen is pleasant to look at compared to the glaring red LED onslaught of our previous radio, and there's a front-facing sensor to auto-dim the display at night.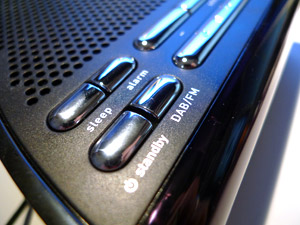 The screen has big numbers for the all important time, and if you're listening to a DAB broadcast you can view station and song info on two lines below the text, with the intellitext shuffling along at a rather sedentary pace.
An onscreen graphic also gives you a signal strength readout.
Scrolling through DAB stations and saving presets was simple, although the slow FM radio tuning made it a bit of an ordeal (even though we'd imagine that most users would stick with DAB).
Alarms galore
There's three separate alarms onboard, offering almost every conceivable option: daily, weekday, weekend, every Saturday, every Sunday and once only, with the option to be stirred up by DAB radio, FM radio or a hangover-punishing rising bleeping tone.
If you still need more sleep, a slap on the long snooze button on top offers another nine minutes of joyous, work-shirking slumber time.
Setting alarms wasn't as easy as it might have been, but once you've got your head around Pure's way of doing things, it's straightforward enough.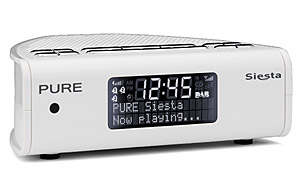 Although there's only one speaker onboard, overall sound quality was surprisingly good, with a pleasingly warm and crisp sound.
It's quite loud too and there's a headphone socket to spare your partner having to listen to your nocturnal listening.
Conclusion
The Siesta offers an easy-to-use, nice sounding DAB alarm radio that'll look good in the bedroom while doing its tiny bit for the environment.
Available in charcoal, black or white finishes, we think it's a great little radio and good value for a smidgen under £50.
Review scores
Looks: 84%
Build: 80%
Features: 85%
Usability: 83%
Value for money: 86%
Pose value: 83%
PURE Digital Siesta Specification
Dimensions (W x H x D) 170 x 62 x 145 mm
Aerial Wire attached
Audio features
Sound output mode Mono
Output options Speaker, Headphones
DAB frequency range DAB Band III 174–240 MHz; DAB L-Band 1452-1491 MHz
DAB presets 8
FM tuner Yes
FM frequency range 87.5–108 MHz
FM presets 8
Inputs USB
Outputs 3.5mm
Display type LCD
Backlight Blue
Information displayed Volume, alarms, signal strength, source selected, RDS and DAB, large clock.
Mains AC adapter
Available body colours Charcoal, Black, White
Pure Siesta