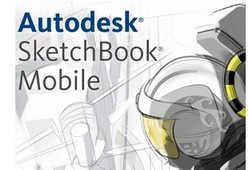 Highly rated design app gurus Autodesk have unleashed not one but two versions of their popular SketchBook Mobile app for Android handsets.
Coming in free and paid versions (the premium app will set you back 65p/$0.99), the digital sketchpad lets users get all arty on their Android handsets via a suite of tools like pens, pencils, markers, and airbrushes.
Tools galore
It's not just your usual bog-standard drawing app though, as there's support for dynamic resizing, drawing symmetry (for those Spirograph inspired moments), layers and a colour wheel – and even the ability to import a photo and use that as a basis for a drawing.
The drawing tools were both responsive and fun to use, and being able to sketch over own photos made it easy to get going.
Several of our staff downloaded the app and within minutes were knocking out their own art (of highly variable quality, it has to be said).
Pay to save
The fun stops dead for freeloaders when it comes to saving their masterpiece though, as only the paid version allows you to save your work.
That said, all of our testers loved the app so much they broke open their piggy banks and splashed out for the paid version.
What you need
The free version (known as SketchBook Express) and the paid version (SketchBook Mobile) both need Android 2.1 or higher to do their magic, with Autodesk recommending a beefy 1GHz processor and 512MB RAM for the most fun.
You can find both apps in the Android Market.