DAB radio dons Pure have slammed down the fifth member of the One family, christened it the Pure One Flow, and promised hot web connectivity at a fairly modest price.
Yours, all yours for just a penny under a hundred quid, the Pure Flow One has thrust its eager talons into internet radio connectivity, letting you gorge yourself on internet radio stations, podcasts, BBC Listen Again and more,
There's also DAB and FM radio onboard for old school listening and Pure sweeten the pie further with their own bespoke web-enabled features like the Lounge – which helps you save your favourite internet stations and podcasts – and FlowSongs.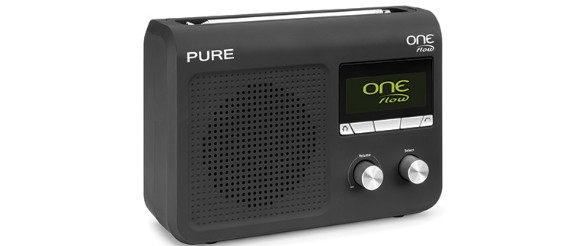 Veritably moistening with each word, Pure extolled the virtues of their new device:
With its luxurious, black satin-touch finish, satin-chrome dials and considerably enhanced audio performance, One Flow looks and sounds fantastic – and its intuitive interface including a new home button for easy navigation to the source menu makes it extremely easy to use.
The radio also offers two alarms, a sleep timer and kitchen timer, an aux-in connector for hooking up an iPod or MP3 player and headphone socket and you can also slam in an optional PURE ChargePAK E1 rechargeable battery pack for "complete go-anywhere listening," whatever that means.
Here's Colin Crawford, Pure's director of marketing, to add some more froth:
One Flow achieves a new price in premium digital and internet radio, but it does so without compromise. So you get all the benefits of broadcast digital radio, plus new on-line content and you even get access to our revolutionary FlowSongs service to buy music direct from your radio. One Flow really will deliver internet-connected digital radio for everyone.
The Pure One is available now for £99 and eagerly nudging consumers looking to buy a Christmas present for their loved ones. Scroll down for more facts, stats and figures.
Features:
Digital, FM and internet radio
Flow technology for internet radio, on-demand content including podcasts, PURE Sounds, and media streaming from a computer
FlowSongs service enables you to buy music direct from your radio. FlowSongs is currently exclusive to UK customers as a public beta
Input for iPod/MP3 player
Takes an optional ChargePAK E1 for portable listening
40 FM presets and unlimited internet favourites
Context-sensitive controls
Easy to use tone or radio alarm (mains power only)
Upgradable via Wi-Fi or USB
Visit the Lounge to register your radio, open a Lounge Account, find new content, organize your favourites and listen online
Full specs:

Radio: Digital (DAB/DAB+/DMB-Radio), FM and internet (Wi-Fi).

Wireless: 802.11b and 802.11g supported with WEP and WPA/WPA2 encryption. 0.5 MB broadband speed recommended.

Media Streaming: Audio codecs supported include WMA (Standard V9), AAC, MP3, MP2, Real Audio (cook). Media streaming requires UPnP server or PC/MAC running UPnP server software (supplied upon registration to www.thelounge.com).

Speaker: 3.5″ full range driver.

Audio power output: 2.5 W RMS.

Input connectors: 5.5V DC power adaptor socket (adapter supplied). 3.5mm Line-in for auxiliary devices. USB (mini-AB type) for product updates (also available over Wi-Fi).

Output connectors: 3.5mm stereo out.

Controls: 3 context-sensitive buttons. Rotary volume, rotary navigate/select.

Presets: 30 digital radio, 10 FM radio and unlimited internet radio favourites (requires registration at www.thelounge.com).

Display: Graphical LCD. 128 x 64 pixels. Yellow Green LED backlight

Mains power supply: 100-240V, 50/60Hz 5.5V DC external power adapter.

ChargePAK: ChargePAK E1 rechargeable battery pack (available separately).

Dimensions: 147 mm high x 207 mm wide x 80 mm deep

Weight: 0.65 kg.

Warranty: Comprehensive two year warranty.
[Pure]