Have you ever fired off an angry reply, told the boss to shove it or shared an wildly inappropriate joke with all your colleagues in a moment of madness – and then immediately regretted what you've done?
Undo it!
We certainly have, and have often found recourse to be thanking the good folks at Google for dreaming up the wonderful 'Undo Send' function in GMail which gives you up to 30 seconds to 'undo' a dodgy email you've just fired off in haste.
The feature is a little hard to find, so here's how to unearth it: go to your GMail account, and in the top right hand corner click on the text link labelled 'Settings.'

Crazy stuff
The next screen presents a tabbed interface – click on the 'labs' link (usually the eighth one along) and you'll be taken to a page showing off some "crazy experimental stuff" from the Google team.
This page lists all the new stuff that Google is playing around with. Not all of it makes it through to the final version, but there's always some interesting gizmos to be found in there.

Anyway, back to the mail thingy: scroll down until you find the entry for 'Undo Send' and then tick the 'enable' button to get the feature working.
Then – and this is the important bit! – scroll down to the bottom of the page and press 'save changes' to activate the feature.
Change the 'send' delay
Gmail serves  you a 10-second default window to undo a sent e-mail, but it might be worth bearing in mind the slowing effects of alcohol and extending that to the maximum of 30 seconds.

To alter the delay time, go back into settings (you know, top right corner of the main Gmail page), and in the 'General' view, scroll down to find the Undo Send entry and then select your chosen delay or five, 10, 20 or 30 seconds via the drop-down box.
You can also temporarily turn off the feature completely here too.
Using the 'undo' button after sending off a bad/drunken/bonkers email
With the Undo Send function now enabled, you can send off email exactly as before, but every time you press 'send', a message will appear at the top of the page inviting you to change your mind.

Click undo. Job saved.
Hitting 'undo' within the specified time window will immediately halt the email in its tracks and take you back to the message, with a confirmation that the sending has been stopped appearing above.
You can now choose to edit and resend the message, trash it forever or, perhaps best of all, go to bed to sleep it off.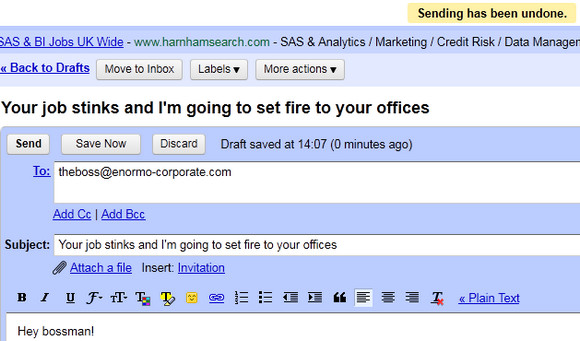 Thanks again Google!