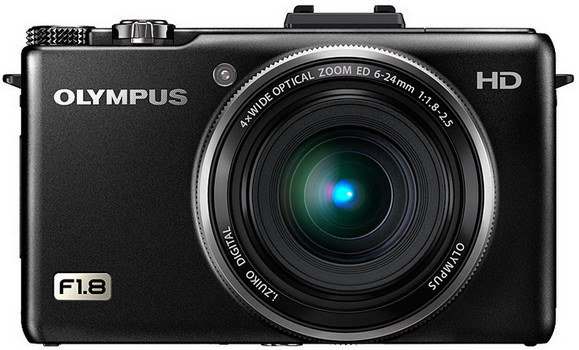 The high-end Olympus XZ-1 digital compact camera has scooped the prestigious international Red Dot award, which honours outstanding design quality and trendsetters.
Good looking laddie
Lauded with its award courtesy of a jury of internationally renowned designers, the Olympus XZ-1 certainly has winning looks, with its chunky metal body packing a multi-purpose click-stop dial around the lens plus a bright, high-resolution 3″ OLED screen and flash hot shoe.
Built around a high sensitivity 1/1.63″ CCD, the enthusiast snapper sports a 28-112mm equivalent superfast F1.8-2.5 lens, CCD-shift image stabilisation, RAW capture, ISO 100-6400 and 720p movie mode.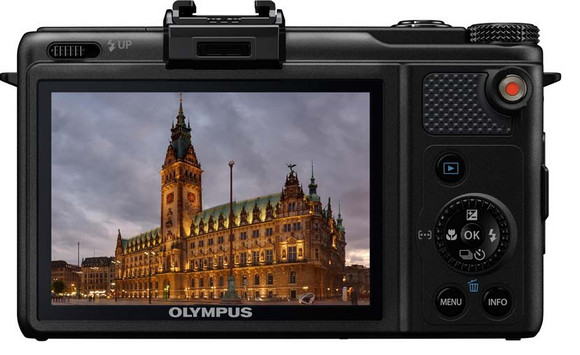 It's one thing to have a good-looking, well spec'd camera, but is it any good?
Here's how photo site DPReview summed up their extensive review on the XZ-1, lobbing in a 'Gold' award for good measure:
Aside from its lack of AEL/AFL button, there's very little to criticize about the XZ-1. Not everyone will be affected by the lack of such a button but as a function available on some point-and-shoots, it's a frustrating omission from a camera people will use creatively.

However, this is just about the only major cloud in a sky that's otherwise the bright, cheery blue that this camera so loves to produce. The XZ-1 is a joy to use, quick and easy to control and small enough to make sure you have it when a photographic opportunity arises.

In fact, many people considering a mirrorless interchangeable lens camera may find they're better served by the XZ-1, if they're not serious about buying additional lenses.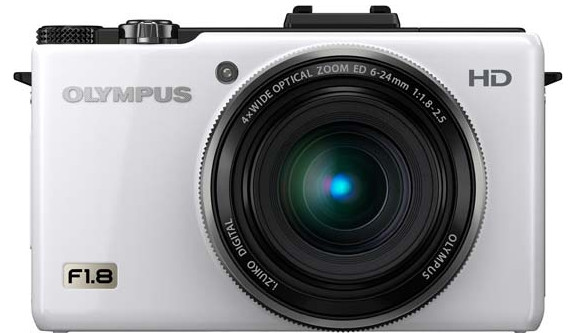 TechRadar were also dishing out the superlatives, but weren't quite as blown away, awarding it four out of five stars:
Olympus has managed to produce a compact camera that is a real joy to use. It's perfectly pocket sized, jumps quickly into action and has responsive controls that are sensibly laid out. The wide aperture lens also means the camera can be used handheld where some others can't and a greater degree of background blur is possible.

Although they are not completely without fault, the images are also very good provided the lower sensitivity settings are used. It's also worthwhile shooting raw images so that they can be processed through the supplied software, Olympus Viewer 2, which is really rather good.

It may not have as versatile a focal length lens as the Nikon P7000 and Canon G12, or some of the direct controls, but the XZ-1 has a much wider maximum aperture and is considerably smaller. Its controls are also more responsive than the Nikon P7000's.

Well done Olympus: you've made choosing a high-end compact camera much harder for enthusiasts.
Is it a Lumix LX5 killer?
We haven't had chance to see if Olympus's offering can surpass our reigning enthusiast compact camera, the mighty Panasonic Lumix LX5, but it's clearly a strong contender.
Check out our comprehensive LX5 review and see how it compares, but if you're already sold on the Olympus, you can buy it now from Amazon now for a rather reasonable £377
.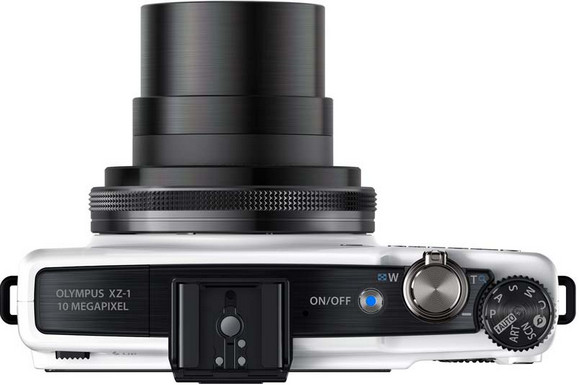 Full technical Details:Model:XZ-1
Colour:
White/Black
Body material:
Aluminium / Plastic
Image Sensor:
Type:1 / 1.63 " CCD sensor
Effective pixels:10 Megapixels
Aspect area:4:3
Full resolution:11.3 Megapixels
Engine:Type:TruePic V
Image Stabiliser:
Type:Sensor shift
Modes:Two-dimensional
Effective compensation range:Up to 2 EV steps
Shutter speed range:2 – 1 / 2000 s (not available when Bulb mode is selected)

Lens:
Focal length:6.0 – 24.0 mm
Focal length (35 mm equivalent):28 – 112 mm
Maximum aperture:1.8 – 2.5
Optical zoom:4 x
Live View:AF Type:Contrast detection system
Displayed information:Exposure adjustment preview, shooting information, 100 % field of view, face dectection preview, Perfect Shot preview, 7 x / 10 x magnification possible, MF / S – AF, AF frame display, AF point display, Histogram
Monitor type:
OLED
Monitor size:7.6 cm / 3.0 "
Resolution:610,000 dots
Focusing System:Method:Contrast Detection AF system
Focus areas:11 points / Automatic and manual selection, 225 points / Manual selection in Magnified View Mode
AF lock:Yes, locked by first position of shutter release button in single AF mode
AF illuminator:Yes
Modes:
Manual focus, Single AF, AF Tracking, Face Detection AF, Macro mode, SuperMacro mode
Light Metering:Method:TTL open aperture light metering
Zones:324 zones Multi-pattern Sensing System
Detection range:0 – 17 EV Digital ESP, centre-weighted average metering, spot metering
Modes:ESP light metering, Spot metering, Centre weighted metering
Exposure System:Exposure compensation:+ / – 2 EV (1 / 3 steps)
Modes:Programme automatic, Shutter priority, Aperture priority, Manual, i-Auto, Scene modes, Movie, Art Filter, Custom shooting, Low light
Number of scene modes:18, Portrait, e-Portrait, Landscape, Night Scene, Night Scene with portrait, Indoor, Sunset, Self-portrait, Sports, Documents, Panorama, Fireworks, Beach and Snow, Underwater Macro, Pet, Cuisine, Multi-exposure, Underwater Wide
Art Filters:Pop Art, Soft Focus, Grainy Film, Pin Hole, Diorama, Dramatic Tone
Multi-Exposure:Max. number of frames:2 frames (shooting)
Frame assistance:Live View
Sensitivity:
Auto:ISO 100 – 800
Manual:ISO 100 – 6400 (adjustable in 1 / 3 EV steps)
Shutter:Self timer:12 s / 2 s
Shutter Speeds:Shutter speed range:1 / 2000 – 60 s
Bulb mode:1 / 2000 – 60 s up to 16 minutes
White Balance:AUTO WB:Yes
One-touch white balance:1 custom setting can be registered
White balance adjustment:+ / – 7 in each A – B / G – M axis (in Auto WB, preset WB mode & one-touch WB)
Custom WB:1 setting can be registered at Kelvin temperature (2000 K – 14000 K)
Preset values:Tungsten, Fluorescent 1, Fluorescent 2, Sunlight, Flash, Overcast, Shade, Underwater Auto
Recording Formats:RAW:12 bit
RAW & JPEG:Yes, parallel recording:JPEG:Yes
Aspect ratio:4:3 / 3:2 / 16:9 / 6:6
Sequence Shooting:Speed:2 fps
RAW mode
8 frames:Sequential shooting mode:7 fps / 20 frames (approx.) in HQ JPEG mode
Sequential shooting mode (high speed):15 fps (without mechanical shutter movement)
Image Processing:Colour space:sRGB
Sharpness + Contrast:5 levels
Saturation:5 levels
Black & White filter:Yellow, Orange, Red, Green
Black & White toning:Sepia, Blue, Purple or Green in Black & White mode
Picture mode:Vivid, Natural, Muted, Black & White
Gradation:4 levels (auto, high key, normal, low key)
Image editing:RAW data edit, Red-eye reduction, Sepia, Resize, Correction of saturation, Shadow Adjustment, Trimming, e-Portrait
Movie Recording System:
Recording format:AVI Motion JPEG®
Movie Mode: HD 1280 x 720 (16:9) / SD 640 x 480 (4:3)
Frame rate:30 fps
Max.recording time:14 min (SD) / 7 min (HD)
Max. file size:2 GB
Compression ration:1 / 12
Sensitivity:
ISO 200 – 1600
Image Stabilisation mode:Yes, Digital Image Stabilisation
Sound Recording System:Internal microphone:Mono
External microphone:Optional:Recording format:Stereo PCM / 16 bit, 44.1 kHZ, Wave Format Base
Image footage:30 s
Image Size:RAW:3648 x 2736 compressed
Large:3648 x 2736Fine (compression: 1 / 4), 3648 x 2736 Normal (compression: 1 / 


Middle:3200 x 2400 Normal (compression: 1 / 


Small:1280 x 960 Normal (compression: 1 / 


View Images:Modes:Index, Calendar, Zoom, Slide Show, Movie
Auto rotation:Yes
Histogram in playback mode:Yes
Shooting information:Off / On
Image protect mode:Yes
Internal Flash:
Type:Pop-up
Modes:AUTO
External Flash Control:Type:TTL Auto for Olympus dedicated flash, Auto or Manual
Modes:Auto, Red-eye reduction, Slow synchronisation with red-eye reduction, Slow synchronisation, 2nd curtain and slow synchronisation, Fill-n for exclusive flash, Manual
Built-in Flash and Wireless Flash Control from the Camera Body:Compatible external flash:Olympus FL-50 R, FL-36 R
Control method:Triggered and controlled by built-in flash light
Number of channels:1 channel
Group setting:1 group (Available when used together with cameras compatible with the Olympus wireless RC flash system)
Menu languages in camera:39 languages (Japanese, English, French. Spanish, Portuguese (BR + PT), German, Italian, Russian, Czech, Dutch, Danish, Polish, Swedish, Norwegian, Finnish, Croatian, Slovenian, Hungarian, Greek, Slovak, Turkish, Latvian, Estonian, Lithuanian, Ukrainian, Serbian, Korean, Simple Chinese, Traditional Chinese,Thai, Arabic, Bulgarian, Romanian, Persian, Indonesian, Hebrew, Malay, Vietnamese)
Power Supply:Battery:LI-50B Lithium-Ion Battery
Sleep mode:Available (20 sec, 1 min, 3 min, 5 min)
Live View shooting:Approx. 320 images (50 % with Live View)
Interface:Media:SD memory card (SDHC, SDXC compatible), Class 6 is recommended for Movie shooting
HDMI™:Yes, Mini connector (type C)*
USB 2.0 High Speed:Yes
Combined V & USB output:Yes, NTSC or PAL selectable
*"HDMI", the HDMI logo and "High Definition Multimedia Interface" are trademarks or registered trademarks of HDMI Licensing LLC
Dimensions (W x H x D):110.6 x 64.8 x 42.3 mm
Weight:275 g (without battery and card)