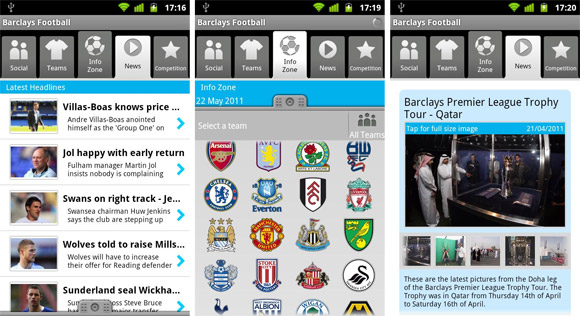 Underlining their status as the official sponsors of the English Premier League, Barclays Bank have hoofed an official app into the air to mark the start of the season.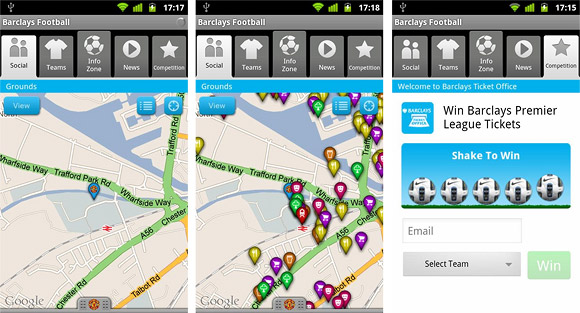 The slick new app serves up a ton of football related stats, facts and figures, pumping out live text commentary and latest scores  on match days, backed by a feast of footie facts for perusing over a half time pie.
These includes match, team and player specific stats like possession, shots and goals, plus fixture lists, tables and results.
Compo
There's a Ticket Office contest offering free game tickets along with the inevitable social networking bolt ons like in-app Facebook chat and augmented reality views of every stadium.
Unfortunately the app doesn't cover the Championship where the greatest team in the known universe, Cardiff City, seem doomed to ply their wares for ever. Sigh.
The app is free and available for the iPhone and Android. Download it here: Phone and Android.
Here's the official guff:
Barclays Football – a must have App for football fans around the world

Barclays Football is the free mobile App by Barclays, global title sponsor of The Barclays Premier League since 2001. This is the 'must have' football App combining, from the start of the season, live Barclays Premier League match text commentary and scores, video content and the Official Barclays Premier League podcast with exclusive match ticket competitions, an Augmented Reality stadium finder and interactive social media features, all in one place.

Features Include:

Competitions
– Win Barclays Premier League match tickets every 90 minutes by playing Barclays Ticket Office
Info Zone
– Live text Barclays Premier League match day commentary and latest scores
– Match, team and player specific stats such as possession, shots and goals
– Fixture lists, tables and results updated during every fixture
– Options to add fixtures to your own calendar

Social
– Augmented Reality views of each Barclays Premier League ground and amenities nearby such as your local Barclays ATM, train stations and shops
– Instant chat with friends via Facebook within the App
– Visuals of Barclays Premier League chat trending within Twitter

Teams
– Access to in depth Barclays Premier League team and player statistics such as who's scored the most goals, how many goals scored in injury time, shots on target, number of handballs and much more, which can be tailored to any Barclays Premier League club

The Barclays Premier League is the best known and most popular domestic football league in the world watched in over 200 countries worldwide and more than 500 million homes. Over 13 million fans attend matches every season.

By the end of the current sponsorship deal, the Barclays will have been Premier League sponsors for twelve years from 2001 to 2013