Things are continuing to heat up in the eBook reader department with US store Barnes & Noble announcing a new, full colour version of its Nook eReader that even comes with its own hook, making it a hooky, booky Nooky, if you will.
Android powered
The new Nook Color comes in the shape of a 7 inch tablet with a 1024 x 600 pixel full colour IPS LCD touchscreen display running on the Android OS.

Onboard, there's 8GB of storage space plus a microSD card slot for expansion, with the tablet offering Wi-Fi and an accelerometer for switching between landscape or portrait modes.
Biting at the Apple iPad?
Measuring up at just under half an inch thick and weighing under a pound, the Nook seems to be nudging eBook readers into the iPad arena with its ability to run apps, view full colour web sites and magazines and support audio and video playback – all at a cheapo $249 price tag.

What's missing?
Although the Nook Color runs Android, it won't offer access to the Google Android Market (although there will be third party apps like Facebook and Pandora available).
There's no support for Adobe Flash either, and the battery life won't come anywhere near the weeks offered by the Kindle – instead, so users should expect something like 8 hours with the Wi-Fi turned off.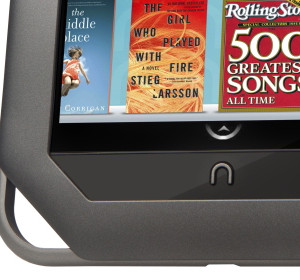 Screen issues
Hardcore book readers may find the Kindle's E Ink display easier to read than the Nook's LCD colour display too, but that low price may well prove irresistible to folks demanding a more multimedia focussed experience.
We're not so sure if it's a mix that's going to excite us – the Kindle more or less does one thing and does it very well indeed, while the Nook seems to offer a hodgepodge of functions, and we're not really sure if it's going to excel at any of them.
That said, we'll hold back our verdict until we get our grubby hands on one in the States next month.
Coming soon
The Nook Color is expected to start shipping on November 19th on the US only, although UK consumers can forget all about this puppy coming over to Blighty in the foreseeable future, if ever.
The new tablet will be sold in Barnes & Noble stores as well as Walmart and several other locations, and users can place their orders right now – click here for the first hands on video.
If you're still craving that black and white thang, the company is still offering the original Nook eBook reader from $149.
Outline specs
Dimensions:
8.1 x 5.0 x 0.48 inches
Weight: 15.8 ounces
OS: Google's Android OS
Ports:
microUSB port for book transfer and power charge
3.5mm jack headset plug
Speaker: mono
Screen:
7 inch VividView capacitive touch screen at 1024×600 resolution.
Memory:
8GB internal memory
MicroSD expansion card slot.
Connectivity:
802.11 b/g/n WiFi for ebook purchases and browsing
File support: MP3 audio, MP4 video,  EPUB, PDF and TXT files, as well as Microsoft Office file formats.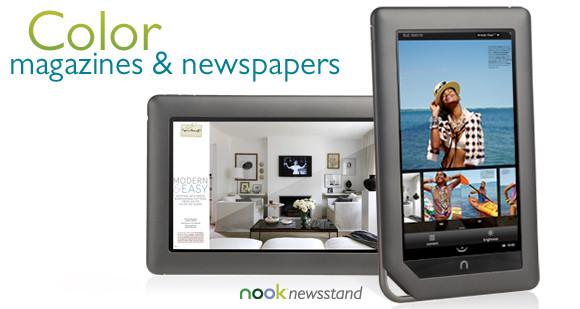 Nook feature list:
VividView Color Touchscreen
Reading is more amazing than ever on our stunning 7-inch VividView™ Color Touchscreen. NOOKcolor uses best-in-class technology to display more than 16 million colors and an extra wide viewing angle for personal or shared reading.

Over 2 Million Books
You'll never be without something wonderful to read. NOOKcolor offers the largest selection of titles with new ones arriving every day. One million FREE books are ready for instant download and you can sample books FREE before you buy. Most titles are $9.99 or less and are ready to read in just seconds.

Your Favorite Magazines and Newspapers – All in Vivid Color
NOOKcolor is the first reading device to offer all your newsstand favorites in rich, full color. From Us Weekly and Elle to The New York Times and The Wall Street Journal – NOOKnewsstand delivers your morning paper and latest magazines right to your NOOKcolor, ready to read in an amazing new way.

Stories Come to Life
For the first time, enjoy hundreds of kids' picture books with our state-of-the-art NOOK kids reading experience. Exclusive Alive Touch™ technology lets your child interact with words and pictures, easily find a favorite story, even have it read aloud. Enjoy classic favorites and the most popular new releases.

Built-in Wi-Fi
Our built-in W-Fi connection lets you get more from your reading. Look up concepts on Wikipedia and Google right from the page as you're reading or use our built-in Merriam-Webster Collegiate Dictionary to look up a word. Connect wirelessly to Wi-Fi to surf the web. Jump quickly to the website you need then go right back to enjoying your book.

Exclusive LendMe™ Technology
Swapping books with friends has always been a big part of reading and NOOKcolor makes it even easier and more fun to do. For the first time on NOOKcolor, Barnes & Noble's exclusive LendMe™ App lets you lend AND borrow favorite books from friends – all with just a few simple touches.

Share and Recommend Reading with NOOKfriends
NOOKcolor is the most well connected, social reading device ever built. NOOKfriends™ makes it easy to share and recommend reading as well as pass along favorite lines to your friends through Facebook® or Twitter™.

Personalized Reading Experience
NOOKcolor is really all about you. From selecting the unique look of your home page, to personalizing your shelves or choosing just the right font, NOOKcolor lets you create a reading experience that you can truly call your own.

NOOKbook Personal Shopping
Our knowledgeable booksellers will provide recommendations for you based on books and authors you like, through our exclusive NOOKbook Personal Shopping, so you'll always have a great book to enjoy.

NOOK Keeps Your Place
When you take a break from your book, a virtual bookmark remembers just where you left off, so you can dive right back into your reading on any computer or mobile device ewith our free NOOKapp, including iPad, iPhone, iPod Touch, Android smartphones, and Windows-based PCs, notebooks, or laptops.

In-Store Experience
Visit any Barnes & Noble store with your NOOK in hand and enjoy an array of special offers through our More In Store program. Get FREE Wi-Fi while you're there and read entire NOOKbooks for FREE for up to one hour per day with our innovative Read In Store feature.

Surf the Web
On-the-go web access is easy with NOOKcolor's built-in Wi-Fi® connection. Check your email or visit your favorite websites. NOOKcolor goes beyond reading and helps you stay connected.

Have fun with NOOKextras
Have some unexpected downtime? Kick back and enjoy the growing array of exclusive NOOKextras™. Crossword Puzzles, Sudoku, Chess and Pandora® internet radio are the first fun additions to the NOOKcolor experience, with many more coming soon. Want to help create new NOOKextras™? Find out more about NOOKdeveloper™ here.

A Library Without Limits
With 8GB of space* and expandable memory, your library has virtually no limits. Hold thousands of books, magazines, newspapers, kids' books, songs and photos. And our Lifetime Library™ makes sure all your reading is safely stored so you always have access to it, anytime, anywhere.

Read in Style
A full range of high-quality accessories to enhance your NOOKcolor experience. Covers, crafted of materials from European bookcloth to full-grain Italian leather are designed to protect your NOOKcolor while making it easy to access. Essentials like screen protectors, car adapters, headphones and power kits help you enjoy NOOKcolor's outstanding features.