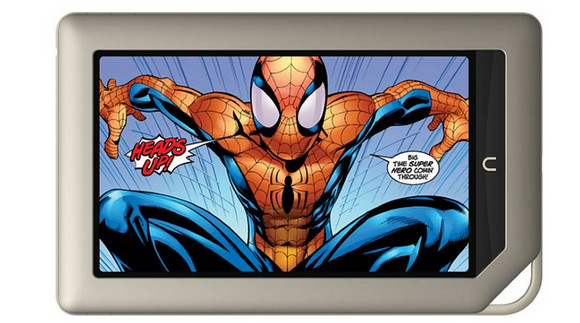 There's just about zero chance of this making it to the UK, but in the States the budget tablet wars have just heated up with the announcement of the new Barnes & Noble Nook 7″ tablet.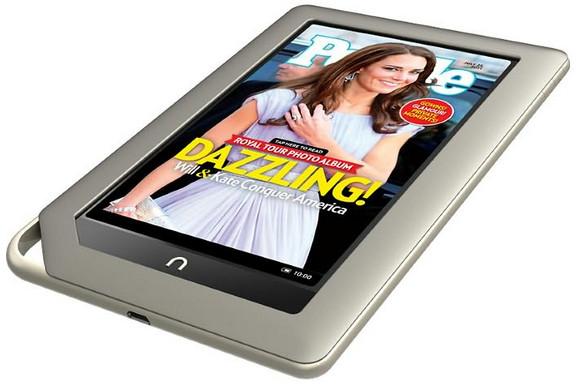 Released on November the 18th, the Nook Tablet is set to retail for $249 – $50 more than its rival the Kindle Fire but still a whole load cheaper than the iPad.
Barnes & Noble CEO William Lynch was quick to big up his new product:
"What we set out to do here was create the best portable 7-inch media tablet. It is an evolution of Nook Color and a revolution in the 7-inch media category."
The company say that they have spent a shedload of dosh developing what the hope will be a Kindle-pwner, with the new tablet bigged up as providing, "the world's best reading experience." That's a mighty big claim, B&N!
Lighter and with more memory
The Nook Tablet offers a 1024 by 600 pixels touch screen (same as the Kindle Fire), weighs 14.1 ounces (a little less than its rival) and packs a 1GHz dual-core processor, 1GB of RAM, and 16 GB of internal storage – twice what you'll get on the Kindle Fire.
You can also expand Nook Tablet's memory via a micro SD memory card slot, and the tablet will come preloaded with apps from Netflix, Hulu Plus, TV.com, Pandora, with more promised.
Like the Fire, the Nook Tablet is a Wi-Fi only device – there's no 3G option on offer – although Barnes & Noble has a deal with AT&T to provide free Wi-Fi access at hotspots in its own stores, as well as in McDonald's and Starbucks.
Battery life is pegged at 11 ½ hours for reading or 9 hours of movie playback.
Here's how Barnes and Noble describe the stand out features:
Our fastest, lightest tablet with the best in HD entertainment
HD movies, TV shows and music from the top names—Netflix, Hulu Plus™, Pandora® & more
World's most advanced VividView™ 7″ Touchscreen
Over 2.5 million books, magazines, comics & kids' books
Lightning fast Email, Web & smooth streaming video
Thousands of must-have apps like Angry Birds and Epicurious
16 GB of memory, extra-long battery life—yet ultra-light and thin
Always free NOOK support in-store
Check out the video below for more: